Amal Clooney and actor husband announce birth of twins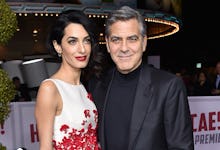 Famed human rights lawyer Amal Clooney and her husband, actor George Clooney, announced the arrival of their twins on Tuesday, the Associated Press reported in a tweet. Amal Clooney gave birth to twins Ella and Alexander on Tuesday morning.
News first broke that the two were expecting twins back in February. Amal Clooney, 39, an Oxford-educated human rights lawyer, and George Clooney, 56, an actor and philanthropist, married in September 2014.
In a statement provided to People on Tuesday, a representative for George Clooney announced that: "This morning Amal and George welcomed Ella and Alexander Clooney into their lives. Ella, Alexander and Amal are all healthy, happy and doing fine. George is sedated and should recover in a few days."