This is why 'Game of Thrones' can't be nominated for the Emmys this year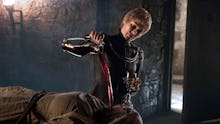 The acclaimed HBO series Game of Thrones has won a mountain of Emmys — 38 to be exact — since the show's beginning, in 2011, so no doubt it'll continue its winning streak during the 2017 Emmys, right? Well, it might have if it could be nominated this year.
But who would bar such an overwhelmingly awesome, obviously awards-worthy show from the Emmys? That would actually be the show itself — and all the time-consuming elements it takes to complete a season.
The show was originally slated to premiere in April, but due to warm weather delaying production on location, is now set to hit HBO on July 16. The change in premiere dates means it missed the May 31 cutoff date for 2017 Emmy eligibility.
Sure, it may seem like a bummer that the blockbuster series won't be represented at the upcoming Emmys, but perhaps it's a good thing. Now, some of the other highly acclaimed shows that haven't been well-represented at the Emmys in the past (cough, The Americans, cough) will stand a chance of claiming the most coveted Emmy accolade: outstanding drama series.
Don't worry, diehard fans of Game of Thrones, after winter's come and gone, the series will likely bask in the golden glow of Emmy statues once more.
Mic has ongoing Game of Thrones coverage. Please follow our main Game of Thrones hub here.