'Diablo 3: Eternal Collection': ESRB Rating hints at new console release for the game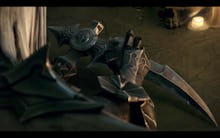 Will Diablo 3: Eternal Collection be enough to get your back in the game? Here's what you need to know about the rumored new release.
Diablo 3 is a little long in the tooth at this point. It was released in 2012 after four years of teases and hints, and it was already two years old when its expansion, Reaper of Souls, was released in 2014. That said, the inclusion of seasons and new items — to say nothing of the promise of a new Necromancer class — have kept Diablo 3 alive and kicking long after players had crushed the eponymous demon lord time and time again.
Now it seems like we might be getting a new console version of Diablo 3, and this announcement comes from the least likely place: the Entertainment Software Rating Board.
Diablo 3: Eternal Collection: ESRB rating hints at new console release
According to VG24/7, the ESRB awarded a rating of Mature to Diablo 3: Eternal Collection on both the Xbox One and PlayStation 4. Blizzard has made no statement regarding this edition's release, but chances are good that the new version will include everything that's been released since the Ultimate Evil Edition — the game's console version that launched in 2014 to coincide with the release of Reaper of Souls.
VG24/7 seemed confident that this new console release will probably include the Rise of the Necromancer DLC, which still doesn't have a release date or a price tag yet. So while news about a new Diablo 3 edition is pretty exciting, we might have a little bit of waiting to do before we learn any more about it.
More gaming news and updates
Check out the latest from Mic, like this essay about the sinister, subtle evils lurking in rural America that Far Cry 5 shouldn't ignore. Also, be sure to read our review of Tekken 7, an article about D.Va's influence on one Overwatch player's ideas about femininity and an analysis of gaming's racist habit of darkening villains' skin tones.