Women's rights activist Loujain al-Hathloul arrested in Saudi Arabia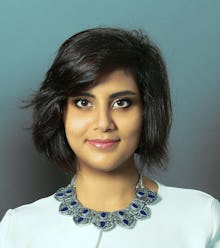 Saudi Arabian authorities have arrested a women's rights activist without clarifying their reasons for doing so, the Daily Intelligencer reported.
Loujain al-Hathloul, 27, was reportedly transferred from Dammam to the capital, Riyadh, where she will be questioned by the Bureau of Investigation and Prosecution, according to Amnesty International. She is being denied access to an attorney and barred from contacting her family during her detention, which the organization believes has something to do with her advocacy on behalf of Saudi Arabian women. The country is infamously oppressive when it comes to women and girls.
Samah Hadid, Director of Campaigns for Amnesty International Middle East, said in a statement:
The Saudi Arabian authorities' continuous harassment of Loujain al-Hathloul is absurd and unjustifiable. It appears she is being targeted once again because of her peaceful work as a human rights defender speaking out for women's rights, which are consistently trammeled in the kingdom. If so she must be immediately and unconditionally released.
Instead of upholding its promise of a more tolerant Saudi Arabia, the government has again shattered any notion that it is genuinely committed to upholding equality and human rights.
In 2014, al-Hathloul was arrested and detained for 73 days when she drove from the United Arab Emirates to the Saudi Arabian border in protest of the latter's ban on women drivers. When Saudi Arabia allowed women to run as candidates in local elections, al-Hathloul threw her hat in the ring — but her name was ultimately left off ballots, she told the Telegraph in 2015.
Recently, the Washington Post interviewed al-Hathloul for a story on a women's empowerment and entrepreneurship panel headlined by Princess Reema bint Bandar and Ivanka Trump during the first family's visit to Saudi Arabia. Trump billed the event as evidence of the country's "progress" on women's rights, if still insufficient, prompting al-Hathloul to question whether or not the professional experiences of a princess and an heiress were particularly practical or relevant for everyday women.
"My issue with these events is that they show these women as powerful and making an impact, making a change," al-Hathloul told the Post. "But in real life, they've been given these opportunities by the men. They did not fight for them."