Who is Harley Quinn on 'Gotham'? Season 3 finale leaves viewers with 2 theories.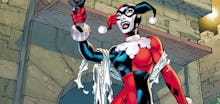 It seems the Joker is no longer DC Comics' most popular villain — at least not in film. That distinction belongs to Harley Quinn, who, played by Margot Robbie, was one of the few bright spots in 2016's Suicide Squad, and will soon get her own spin-off film, Gotham City Sirens. Considering her popularity, there has obviously been speculation that Harley would eventually show up in the Fox Batman prequel series, Gotham.
Gotham producer John Stephens told TV Guide earlier this year that Harley Quinn might appear at some point in season three. And then, just a few days before the end of the season, David Mazouz, who plays Bruce Wayne, told Movie Pilot that Quinn would indeed show up in the finale. So, who plays Harley Quinn? Well, it's actually not 100% clear. The season finale of Gotham has come and gone, and Harley Quinn has absolutely not explicitly shown up.
Still, it is hard to believe that Mazouz was just messing around while speaking with Movie Pilot. Rather, it is likely that we saw Harley Quinn in some capacity and maybe just didn't realize it. This leaves us with really only two possibilities for who could be the Joker's better half: Barbara Kean and Leslie Thompkins. The most obvious of the two is, of course, Barbara Kean. Played by Erin Richards, Kean has long been teased as Gotham's version of Quinn.
Like Harley, Barbara has a tenuous relationship with sanity. Barbara has also shown herself to be quite obsessive, though in her case she has been fixated on Jim Gordon, rather than the Joker — who hasn't officially appeared yet on the series.
Barbara's similarity to Harley has led to plenty of speculation, and the Gotham actress has even been asked whether she is, or could eventually be, playing the famous villain. In an interview with CinemaBlend, Richards said, "I think something major would have to happen to Barbara for her to fully become Harley Quinn."
This brings us back to Monday night's season finale, an episode that David Mazouz stated would include Harley Quinn. Did anything "major" happen to Barbara that could have led to her transformation into the Queen of Gotham?
Well, in Monday night's finale, Barbara appears to be fatally electrocuted in an altercation with her former friend Tabitha. So, should she return in season four, it is likely we will see a different Barbara. And if she becomes any more unhinged than she has been the last few years, it would be no stretch to see her transforming into Harley Quinn.
Of course, this could all be one huge red herring, and the real Harley Quinn could be Leslie Thompkins. And this is not just some out of the blue comment, there are reasons to think Leslie could go down a darker path. Like Harley Quinn, Gotham's Leslie Thompkins began her career as a doctor in Arkham Asylum. Maybe Gotham will even pull a move similar to their Cyrus Gold reveal in the season finale, and eventually show that Leslie's legal name is Harleen Quinzel (Quinn's legal name).
Further, we did get a quick glimpse at what a villainous Leslie Thompkins could look like. While she was infected by the Tech virus, Leslie certainly began displaying some signs of questionable sanity. Further, much like Barbara, she became pretty obsessive. Since she has been cured, it seems less likely that Leslie would continue down this path, but there have certainly been enough seeds planted that it wouldn't be too shocking.
Mic has ongoing coverage of Gotham. Please follow our main Gotham Hub here.