5 top industries for entrepreneurs of the future: Start-ups in these high-growth areas can thrive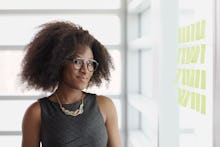 Technology has upended everything from the way we shop to how we invest our money. And while that hurts established companies that are unable (or unwilling) to adapt their business models to the rapid rate of change, it's created myriad opportunities for scrappy entrepreneurs.
In fact, now is the best time to start a business in years. The rate of new entrepreneurs in the U.S. increased by 15% from 2014 to 2016, according to the Kauffman Foundation, although it is still below pre-recession levels. "After a long Great Recession hangover, entrepreneurship is finally rebounding in the United States," the nonprofit's 2017 State of Entrepreneurship report says.
Of course, starting a company is rarely easy. Small businesses struggle to raise capital: Less than half of bank loan applications from firms with less than $5 million in revenues were approved in the third quarter of 2016, Inc reported. And those that got bank funding received only 65% of funds requested.
What's more, women and racial minorities continue to be underrepresented, as 80.2% of startup founders are white and 64.5% are men. "Regardless of race, women are half as likely as men to own employer businesses. Though not a new trend, the persistent gender business gap costs the United States 1.7 million additional businesses," the Kauffman report noted.
This said, the most successful entrepreneurs are known for defying the odds and ignoring the naysayers. And nothing helps more with that than finding ways to differentiate yourself. With these challenges in mind, here are five fast-growing industries that are ripe places to start brainstorming, for anyone looking to change the world.
1. Green and renewable energy
Being a wind turbine service technician is officially the fastest-growing job in America — with solar photovoltaic installers not far behind — according to the Bureau of Labor Statistics. While renewable energy is still a relatively small industry in the U.S., with wind supplying just 5.6% of electricity on the grid and solar power generating 0.9%, rapid job growth in the sector makes it a great area for entrepreneurs to gain a foothold.
Generous business tax credits of up to 30% have helped spur interest in the sector. While the credits are expected to largely dry up within the next few years, business interest in renewables from tech firms like Google parent company Alphabet, Facebook and Apple are giving the industry a boost: Alphabet plans to reach its goal of using 100% renewable energy by the end of 2017, Apple says that 96% of the electricity it uses comes from renewable energy, and Facebook is aiming to hit the 50% mark by 2018.
For cleantech investor Rob Day, a partner at Black Coral Capital, sustainable energy, water and food are "the world's biggest market disruption opportunity right now, and for decades to come," he told Mic in a phone interview.
His advice to entrepreneurs looking for financing: Go after research grants or angel investments first. "Stay lean, and use other sources of capital [as opposed to venture capital] as much as you can, so you can build your company at the right pace," he said.
Nicole Litvak, a solar analyst at Greentech Media, told Mic in an email that the areas where the industry is struggling the most would in fact benefit most from fresh entrepreneurs coming in with new ideas. For instance, she said, customer acquisition in the residential market — one of the most expensive cost components for a solar company — and financing for small commercial solar "continue to be two major pain points that could definitely use some innovative new companies."
The most promising niches for entrepreneurs are in energy storage and emerging state markets where there's still room for new installers, like in Florida and Texas, Litvak adds.
2. Artificial intelligence
If you've ever used an Amazon Echo or Google Home to check the weather or order a pizza, you've been using artificial intelligence, which Stanford University defines as "the science and engineering of making intelligent machines, especially intelligent computer programs."
Expect to see more artificial intelligence in the home and on your phone in the future. Google CEO Sundar Pichai has said the company is moving from a mobile-first world into an AI-first world — and is positioning its investments accordingly.
"As we look to our long-term investments in our productivity tools supported by our machine learning and artificial intelligence efforts, we see huge opportunities to dramatically improve how people work," he wrote in his 2016 Founders' Letter. "Your phone should proactively bring up the right documents, schedule and map your meetings, let people know if you are late, suggest responses to messages, handle your payments and expenses, etc."
Job prospects look strong too. According to the BLS, demand for operations research analysts, who may develop artificial intelligence systems and related programs, is expected to grow 30% from 2014 to 2024, much higher than the 7% average for all occupations.
While the success of mass-market products like the Amazon Echo are helping to create these jobs, some of the most interesting applications of artificial intelligence are custom-designed for businesses. For example, Microsoft recently created a tool for soccer team Real Madrid that led them to "dramatically increase re-subscription rates and per-seat revenues," Peter Lee, corporate vice president of artificial intelligence and research at Microsoft, said in a speech published by MIT Technology Review.
They did this through creating software that captured and stored every interaction with fans, from mobile check-ins at the stadium to online purchases, to better tailor their marketing strategies. That's a sign that creative use of AI skills can have many applications — especially if you think outside the box.
3. Marijuana
Pot is good business, thanks to the increase in legalization of both recreational and medical marijuana. In fact, the legal cannabis market in the U.S. is expected to grow from a $6.6 billion in annual revenues in 2016 to $24.1 billion in revenues by 2025, according to New Frontier 2017 Legal Marijuana Outlook. That growth is expected to create another 280,000 jobs by 2020.
While there is plenty of room for growth, some weed-focused pharmaceutical companies already have valuations in the billions. GW Pharmaceuticals, which specializes in epilepsy treatment, is worth over $2 billion, for example, and Insys Therapeutics, which has an FDA-approved drug for increasing appetite in cancer and AIDS patients, has a current market cap of about $800 million.
So how do you break in to this hot industry? "Probably the best way to get a job in the legal marijuana industry is through networking," Johnny Green wrote in The Weed Blog. There are even job sites dedicated specifically to cannabis jobs, including 420 Careers and Cannajobs. High-paying jobs include store managers, sales reps and dispensary owners, CNBC reports.
But if you want to start your own cannabis business without selling it outright, consider opening a cannabis-friendly bed-and-breakfast, becoming a cannabis florist or running an on-demand medical marijuana delivery service.
4. Video gaming
Love playing video games? Even if you don't, or you think games are for kids, it's a seriously grown-up industry — expected to reach $20.3 billion in U.S. revenues by 2020, Venture Beat reported.
How do you get in? While, yes, you could just create a new game and try to market it, other narrower niches have particular promise. For one, businesses like Unity Technologies — that make tools and software underpinning many different games — can succeed as long as the industry keeps growing, no matter which particular game titles do well.
Another growth area includes in-app purchases and micro-transactions that let users enhance their gaming experience in popular games like Madden NFL and FIFA Soccer, Christopher Vollmer, global entertainment and media advisory leader for PwC, told Mic in a phone interview. In-game branding and advertising opportunities are another major avenue worth pursuing, he added.
Another business opportunity comes from turning gamers who prefer the computer- or console-based experience into mobile gamers too. Existing mobile games "haven't been ones that people who actually like video games necessarily play," Vollmer said.
That means creating better games for your phone. Someone without a lot of engineering experience but with a good understanding of what makes great games great from an anthropological sense would do very well in the industry.
Lastly, some people are more interested in watching someone else play a video game than they are in playing themselves. According to PwC data, more people watched the League of Legends championships in 2015 than the World Series or the NBA finals. Finding ways to make the experience more interactive, such as through voting or communicating with the players themselves, could be another great niche for a startup.
5. Software as a service
You may have seen this term elsewhere — it's quite clunky! But if you've ever ordered from Seamless or GrubHub, talked to a colleague on Slack, or sent or saved a document through Dropbox, you've been giving business to a "software-as-a-service" company, also known as SaaS. Perhaps the best-known SaaS firm is Salesforce.com, which is worth about $62 billion.
Comprising the lion's share of cloud computing software, SaaS's global revenues are expected to grow from $39 billion in 2016 to $76 billion in 2020, according to research firm Gartner. And in a boon for SaaS entrepreneurs in the U.S., venture capital firms are more likely to invest in software firms than in any other category, according to data provided to Mic by PitchBook.
"60% of all companies now have integrated at least some SaaS solutions into their business, with 36% intending to increase their investment in the months ahead," Vadim Vladimirskiy, CEO of data company Nerdio, wrote in a 2016 blog post.
To get in on the industry, start with a problem you are passionate about solving, understand the pros and cons of securing venture capital funding and, most importantly, don't reinvent the wheel and wind up "in the SaaS graveyard," Louis Coppey, an associate at the angel investment firm Point Nine Capital, wrote on Medium.
Lastly, be persistent: "While the initial days will invariably have confusion and chaos, success will depend upon your ability to deal with it and learn how to transform this into processes that work," Dr. Ravi Mehrotra, founder of IDeaS Revenue Solutions, wrote in Entrepreneur.
He was talking about SaaS startups in particular, but this is sage advice for any startup founder. For more advice, check out Mic's guide to launching a small business.
Sign up for The Payoff — your weekly crash course on how to live your best financial life. Additionally, for all your burning money questions, check out Mic's credit, savings, career, investing and health care hubs for more information — that pays off.