Our burning questions before the 'Orange Is the New Black' season 5 premiere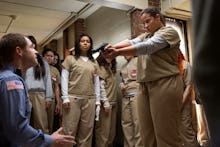 Waiting for season five of Orange Is the New Black is like waiting for the theme song to end in the deepest throes of a binge. Can it stop?
Season four of the hit Netflix show ended with a doozy of a cliffhanger — Daya holding the sociopathic Humphrey at gunpoint — and viewers have been on edge ever since. These are the biggest burning questions going into Friday's season five premiere.
1. Will Daya shoot Humphrey?
With a prison guard at gunpoint, the Litchfield inmates have more power than ever before. They're enraged about Poussey's death — which happened only days before — and are fed up with the way Captain Piscatella has been treating them. Will Daya leverage this situation to her benefit, or will she make matters worse? She's in a tight spot, but there are any number of inmates who can step in at this point.
2. Will police connect Alex to the dead body found at Litchfield?
Authorities will eventually realize Alex is responsible for the dead body — a former agent for Kubra who attempted to kill her — Litchfield workers dug up in season four. Even if she avoids further jail time with a self-defense argument, Kubra may send another agent to finish what the first started.
3. Will Piper and Alex make things work this time?
Piper and Alex romantically reconnected at the end of season four when Piper helped Alex process her guilt over killing Kubra's henchman. The two are now closer than ever over their shared secrets, but will they get in each other's way again?
For a broader recap of seasons one through four, check out this adorable puppet-only recreation of the show's biggest moments. Litchfield's prison food looks even grosser when it's made out of felt.
Mic has ongoing coverage of Orange Is the New Black. Please follow our main OITNB hub here.