Philadelphia's queer people of color have fought racism for years. Now the city is paying attention.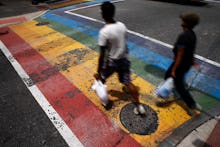 PHILADELPHIA — "When you've been shut down, you get loud," Amber Hikes, executive director of Philadelphia's Office of LGBT Affairs, said to raucous applause at a crowded town hall meeting in the William Way LGBT Center in May. "I am here for kicking down the door if the door needs to be kicked down."
"Civil disobedience is in our blood," she added.
Hikes was only two months into her new job, and her very first conversation with the city's LGBTQ community about inclusiveness in LGBTQ spaces was standing room only. Attendees represented a vast swath of Philadelphia's LGBTQ residents: Queer and trans people of color were present; some people were in wheelchairs; others had canes.
The meeting was more than a simple introduction between Hikes and the community she serves. After a series of racist incidents in Philadelphia's LGBTQ spaces, Hikes assured those present that her administration would hear their concerns and work to make the queer community's spaces inclusive.
Queer Philadelphians of color had been trying for some time to bring attention to racism in LGBTQ spaces, particularly in the historical Gayborhood. The area, by some accounts the first official gay enclave in America, is small — only about six blocks by seven blocks — and abuts downtown Philadelphia and its City Hall. Rainbow street signs are mounted at its intersections.
The discrimination people were experiencing in queer corners of the racially diverse, but de facto segregated, city spilled out into broad public view in May 2015, when journalist Ernest Owens published a scathing account of racism at a Philadelphia gay bar in the city's Metro newspaper. Owens, who is black, wrote that one bar, Woody's, charged him a cover fee but let a "borderline underage" white patron enter for free.
Owens told Mic that, after publishing his account, people began to message him privately and share that they had endured similar experiences with racism in the Gayborhood, but felt like they were unable to share their experiences with local media.
"They didn't have the outlets," he said in a phone interview. "There was no reporter they could go to."
Owens said some were unwilling to discuss issues of LGBTQ racism as the community was fighting for marriage equality for fear of seeming divisive. Owens continued to document instances of racism and break news as activists gathered to form a response.
That fall, Philadelphia Black Pride organized intra-community town halls. LGBTQ people of color gathered to share stories of discrimination in the Gayborhood and crafted a plan for community members to report racist incidents to one another.
As the community mobilized to fight racism, however, alarming episodes continued at Woody's and elsewhere.
In April 2016, event promoter Christopher Kyle reported on his Facebook page that staff at ICandy, another gay bar, told his friends their Timberland boots disqualified them from entering the dance floor.
That September, Kemar Jewel, a black gay man, reported that he, too, was denied entry to Woody's, for wearing sweatpants and sneakers. Jewel had patronized Woody's since he was 18 — when he would attend college nights — and said he had never encountered a dress code before. When he asked a second bouncer if there was a dress code he was violating, she told him that none existed, but that door staff were restricting entry to "certain people" that night while the owner was in the building.
According to Abdul-Aliy A. Muhammad, co-founder of Philadelphia's Black and Brown Workers Collective, the city wouldn't help, and then-LGBTQ community liaison Nellie Fitzpatrick was unhelpful.
"She said her focus wasn't on issues of race," Muhammad said. "She kept saying this was not her issue."
And despite repeated incidences of dress codes keeping people of color specifically out of some spaces, organizers said they had to fight to convince others that the issue was race-based.
"We kept saying the dress code was code for anti-blackness and they would say, 'This could just be an establishment for people who don't like boots!' But this wasn't about boots," Muhammad said. "This was about Timbs. Who wears Timbs in Philly?" he asked rhetorically. The brand's popularity among black Americans has hardly waned for more than 25 years.
Kyle told Mic that he had experienced other racist incidents at ICandy as well, including a DJ refusing to play a Missy Elliott song because the bar didn't "want to bring in black people." Kyle has also received social media messages from Philadelphia residents calling a particular party he promotes, Beards and Queers, "nigger party."
On Sept. 25, frustrated by these repeated incidents and inaction from city officials, activists gathered outside Woody's and ICandy to throw Timberland boots at their front doors.
But this protest wasn't what finally prompted soul-searching among white queer Philadelphians. It wasn't until a video dropped on Sept. 27 — two days after the Timberland protest — that many white allies joined the fray, according to those who spoke to Mic.
That 22-second video snippet quietly appeared in the comments section underneath a story about the Timberland protest on G Philly, the LGBTQ section of Philadelphia magazine. The video showed Darryl DePiano, ICandy's owner, disparaging his bar's black patrons.
"Nig- nig- nig- nig- niggers, every one of them," DePiano says through open laughter in the video.
A commenter named Gay by Gay posted the clip — his sole YouTube upload — four times on posts on G Philly. The video currently has nearly 70,000 views on YouTube.
Black and Brown Workers Collective's Muhammad called the video "the smoking gun" and "the receipt" that people needed to believe queer folks of color.
"They were not listening to black and people [before], but when the video leaked, people started to call for a boycott on ICandy," Muhammad said.
But while people of color felt relief that their white peers finally believed their claims of racism, for many, having to prove their experiences with racism by providing video evidence stung.
"That was really, if I'm being honest, the largest and most important component of that video being leaked," LGBT liaison Hikes said in a phone interview. "It wasn't surprising that people were saying these words. It's something that's been going on for years. Now it could not be denied."
National media jumped on the video — it earned headlines on Fusion, the Advocate and Towleroad. A few days after the video appeared, RuPaul's Drag Race star Shangela interrupted a scheduled appearance at the bar to call for unity. DePiano appeared on stage alongside her and made a public apology. But despite the bar's efforts, patrons of all races left ICandy with empty dance floors and low profits for months, according to an employee who spoke to Mic.
Khalif-Samad Parker, a black gay man and a dancer at ICandy, said the bar booked a number of great drag performers in the wake of the footage to attempt to boost patronage, but it didn't work. Parker told Mic that he usually worked weekend nights from 10 p.m. to 2 a.m. but that one night in the wake of the incident, he was told to go home around 11 p.m. because the bar was empty.
"It was rough financially and for morale," Parker said. "I'm there to entertain people. It's hard to come into a place where there's no one to entertain."
The bar remains open.
***
Making queer spaces inclusive for all types of LGBTQ people remains a concern nationwide. Gay bars in New York City, Washington, D.C., and Denver have all come under scrutiny for racist and transphobic incidents. While there's generally some sort of response to these events, it's rare that reactions go beyond personal admonishments, and perhaps an apology from the establishment's owner. But the neighborhood-wide problem in Philadelphia reached City Hall.
The city government's fight against Gayborhood racism began on Oct. 25, 2016 — over a year after the city's black LGBTQ residents had begun to organize, in part because of the reported events at Woody's — with a jam-packed public hearing. The city expected about 200 people to attend, but 375 came, filling the meeting space and two overflow rooms where people could watch the proceedings on monitors and speakers. Members of the police and fire departments, concerned about capacity and safety, stood outside the public hearing turning people away.
When a Mexican-American commissioner with the Philadelphia Commission on Human Relations opened the meeting, a woman in the audience shouted, "You're a white man, so you need to shut up and let us speak!" The outburst, and the anger it embodied, lingered in the air as speaker after speaker testified about racism in Philadelphia's queer enclave.
"Woody's is not that fab to even have a dress code," Jewel — whose attire got him turned away at Woody's the previous month — testified. "Number two, why are venues that are supposed to be inclusive and create safe space for queer and marginalized people now trying to regulate what people, especially people of color, can and cannot wear?"
After the hearing, the city compiled the testimonies along with a few dozen interviews into a report. The city mandated that bar staff and management attend implicit bias training by May 23, 90 days after the report's publication. According to Rue Landau, executive director of the Philadelphia Commission on Human Relations, all but two bars met the benchmark, with the final two establishments scheduled to receive the training by mid-August due to scheduling conflicts.
Some locals worry that implicit bias training — coaching to help people recognize the subtle ways they carry out prejudice — cannot solve what is a larger, structural problem. Instead, they advocate for stronger anti-racism training, which can get to the root of why white management might discriminate against nonwhite patrons.
Kyle said he worries the trainings will conceal the problem rather than solve it: "'We're going to train them to hide their racism.' That's just how I see it," he said in a phone interview. "'Here's what you need to do to stay uniform with our policies [against] discrimination.'"
The city will also be "testing" bars by sending patrons of different races into bars and collecting notes on how they're treated, according to Landau.
"We'll continue testing to make sure everyone is treated equally from the moment they walk into the entire time they're there," Landau said.
But this report isn't the first official documentation of racism in Philadelphia's queer spaces.
A 1986 report written by the Coalition on Lesbian-Gay Bar Policies found "pervasive racial and sexual exclusivity" stemming largely from a desire to "create an atmosphere that attracts a specific clientele."
Ian Morrison, who has worked as a drag queen in the Gayborhood for over 20 years, said that racial divide persisted throughout the 1990s — when going out was "like being in the movie Hairspray," because "nobody mingled." And while the dance floor on Woody's was divided along racial lines in this decade, in the '90s trans patrons often couldn't even get inside the club at all, because of discriminatory ID policies that required their documentation to match their gender presentation.
Philadelphia native and Gayborhood promoter Josh Schonewolf said that racism extends beyond the area and is a larger "inherited" problem across the city.
"We give people a lot of credit for being in the city, like they must be enlightened. But unfortunately that's not the case," he said in a phone interview. "Just because you're gay doesn't mean you're not racist."
Muhammad of the Black and Brown Workers Collective says that some in the community try to hide behind LGBTQ unity rather than deal with pervasive racism.
"There's this dream of 'togetherness' that white queers speak of that has never existed," they said.
What Muhammad called the fantastical "dream of togetherness," Hikes described as a form of gaslighting by white LGBTQ people.
"There are two different worlds: There's the world that white folks live in, and there's a whole other world that people of color live in," she said.
***
Activists' work has changed the face of the Gayborhood in the last two years. Hikes filled the role of executive director of the LGBT office after activists called for her predecessor, Nellie Fitzpatrick, to resign in October. By February, the news broke that Fitzpatrick was being pushed out of office for her mishandling of the racism problem.
Since Hikes' tenure began in March, Philadelphia has garnered national attention for part of its local response to the controversy: a pride flag with additional black and brown stripes to represent queer Philadelphians of color. The flag stirred a social media firestorm, which Landau called "exhibit A" for the need to work on racial discrimination in LGBTQ spaces. Hikes maintains that it is a promise that substantive legislation will come out of her office to help Philadelphia's LGBTQ people of color.
Legislative measures have already begun moving forward: Working with their allies in city government, activists were able to push an anti-discrimination bill, introduced by councilman Derek Green, that would strengthen penalties against business owners who act with racist intent toward employees or patrons. The bill passed out of committee in April.
The ongoing racism problem has changed some people's outlooks on the Gayborhood.
Christopher Persaud, a black gay man living in Philadelphia, said the ongoing strife has "shattered" his belief that a queer community can be a refuge for everyone.
"I have to keep in mind how my race affects how I navigate certain spaces," he said in a phone interview.
Parker, the dancer at ICandy, says the same.
"When I was younger, I wanted to move to a city to be a part of a gay community, and I just assumed that as queer people, we all go through bullshit just for becoming who we are," Parker said. "For some reason, I just assumed, me being naive, that race would not be a part of that. I assumed we were bound by the fact that we are queer."
But, as Hikes said at the meeting, it is a long process to create the kind of community that people will want to live in.
To the activists who have been working for two years to create a more inclusive queer scene, Philadelphia's struggle is a blueprint for other cities who want to create better communities. Queer people of color banded together, through media, activism and collaboration with politicians, to agitate for the change that's currently in motion.
"Everyone was positioned in the right place," Kyle said. "When we all made noise, it hit every single avenue that it needed to."
Correction: June 29, 2017