Bill Cosby Trial: Three key takeaways from Day 2 of Bill Cosby's sexual assault trial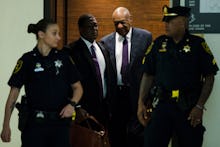 Bill Cosby's trial for his alleged sexual assault of Andrea Constand began its second day of testimonies on Tuesday. Constand took the stand along with several corroborating witnesses.
Constand is one of at least 60 women who have publicly accused the 79-year-old comedian of sexual assault and/or harassment. While many women have reported being drugged and sexually assaulted by Cosby, Constand is the only one for whom the statute of limitations had not expired in 2015, when prosecutors filed charges against the man formerly known as America's dad.
On Monday, Cosby showed up at the Montgomery County Courthouse escorted by actress Keshia Knight Pulliam, who played Rudy Huxtable on The Cosby Show. Opening arguments from the prosecution painted Cosby as a man who habitually exploited his fame for his own sexual pleasure, while the defense declared its intention to torpedo Constand's credibility.
Here are three key takeaways from Tuesday's proceedings.
1. Andrea Constand speaks.
After more than 10 years of silence, Andrea Constand recounted what happened on the night she says Cosby assaulted her.
"I felt really humiliated and I was really confused," she told prosecutors, according to NBC.
Constand testified that, in 2004, Cosby invited her to his suburban Philadelphia home under the guise of offering her career guidance. The comedian offered her three blue pills he allegedly told her would "take the edge off"; instead, they left her unable to move, with blurred vision. She passed out, she told the court, and when she came to, Cosby was groping her breasts and genitals.
"In my head, I was trying to get my hands to move or my legs to move, but I was frozen," Constand said, according to the Hollywood Reporter. "I wasn't able to fight in any way."
"I wanted it to stop," she added.
Constand reported a very similar version of events to police in 2005, but has been barred from speaking publicly about the incident per the terms of a 2006 settlement she reached with Cosby.
2. Kelly Johnson's mother takes the stand.
On Monday, former William Morris assistant Kelly Johnson testified that in 1996, Cosby made her swallow an unmarked white pill in his bungalow at the Bel Air Hotel. When she came to, she was on the bed with her skirt pulled up and breasts exposed, with Cosby forcing her to touch his penis.
Johnson's mother, Patrice Sewell, took the stand Tuesday, and recounted a phone call she received from Johnson in the wake of her alleged sexual assault.
"She called me at work. She was nearly hysterical," Sewell said, according to CNN. "She was crying. She was telling me, 'Mommy something's going on. I don't know what's going on, but they're telling lies about me."
Sewell told the court that Johnson's father, formerly a detective with the Los Angeles Police Department, recommended she stay silent to avoid the "shame and embarrassment" he'd seen others experience when reporting sexual assault allegations to authorities, according to CNN.
3. Johnson's firing from William Morris under the microscope
Johnson told the court on Monday that she'd overheard Cosby telling her boss, Tom Illius, "She's a problem; you need to get rid of the problem" during a phone call the day after the alleged assault. Johnson believes her subsequent firing came at Cosby's request. Defense attorney Brian McMonagle argued she was fired because she was dating clients, and questioned her as to why the allegations against Cosby didn't factor into reports on her claim.
Enter attorney Joseph Miller, who testified Tuesday. Miller witnessed Johnson's deposition in a 1996 workers' compensation claim she filed against William Morris. According to CNN, the defense heavily underlined the fact that Johnson's claim ostensibly stemmed from verbal abuse by her boss, but Miller's memory of her teary deposition tracked closely with the version of events Johnson outlined Monday.
"Mr. Cosby had invited her to the Bel Air Hotel, a very nice hotel in Los Angeles, and given her a pill to take and some wine to drink, I think, or some sort of alcohol," Miller recalled, according to Jezebel. "And she had gotten semi-unconscious because of whatever she had taken, and that he had exposed himself to her and taken some of her clothing off."
"He had taken out his penis and had put lubricant on his penis and wanted her to fondle him," he added. "She didn't want to do that. That I do remember."
Miller also said that no transcript was prepared for that day of testimony, owing to its "sensitive nature," which explains why the details don't feature in deposition reports.