What Melania Trump wore her 20th week as first lady — the one and only time she appeared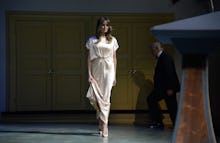 Ever since first lady Melania Trump got back from her whirlwind tour abroad, her fashion has been a little, well, predictable. Giant, flowery jackets have been shoved to the side in favor of light cardigans. Pattern and metallics have been booted to make room for light, solid colors yet again.
A bit of a shame, isn't it? At least we got an outfit this week, and it was quite a pretty one.
Here is what Trump wore this week:
Sunday, June 4: A satin Monique Lhuillier dress for the Lincoln gala
For a gala at Ford's Theatre in Washington, D.C. honoring Abraham Lincoln, Trump wore a light satin gown, with a twist at the waist by Monique Lhuillier.
It was light and feminine and had all the touches that make this ensemble truly Trumpian.
It's got that highlighted waist and solid, pale color, which doesn't draw too much attention to the wearer. The shoes, which match her skin almost exactly, were Manolo Blahnik too, a favorite of hers other than Louboutin.
You can see previous recaps of what Melania Trump wore here.