E3 2017 Sports Games: 5 titles we can't wait to see, from 'FIFA 18' to 'Tennis World Tour'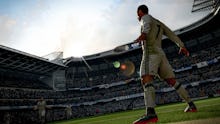 The Electronic Entertainment Expo in Los Angeles begins on June 13 and ends on June 15. There are plenty of games to get excited about at E3 2017, and that's particularly true for sports gaming fans.
If we look solely at sports games, there's a lot to look forward to at E3. Game Informer put together a massive list of titles that could be on display at E3. Narrowing it down to five titles, the following are the ones we are most eager to learn more about.
E3 2017 sports games: Tennis World Tour (PS4, Xbox One, PC)
We have yet to see a simulation tennis game on this generation of consoles, so Tennis World Tour will garner some attention from fans of the sport.
It's promising that the game is being developed by a team — Big Ben and Breakpoint Studio — which includes members of the group that produced the stellar Top Spin 4.
It'll be exciting to see what tennis looks like on the PS4 and Xbox One.
E3 2017 sports games: FIFA 18 (PS4, Xbox One, PS3, Xbox 360, Nintendo Switch, PC)
This will be the second year EA Sports has used the Frostbite Engine to develop FIFA. Last year's game was solid, but it was difficult to see the magic of the engine that we'd been promised. 
There's also a serious challenge coming from Konami in the form of Pro Evolution Soccer. If EA Sports hopes to hold on to its place as the king of the virtual pitch, we need to see something special at E3.
E3 2017 sports games: PES 2018 (PS4, Xbox One, and PC)
Graphically, the PES series saw a huge leap forward with last year's game. Its Fox Engine and control mechanics also produced the best soccer gameplay in the history of video game renditions of the sport.
On the other hand, the series is fighting the daunting and seemingly never-ending battle created by its lack of valuable licenses. Still, if it continues to improve — and, to some degree, outshine FIFA — almost nothing can hold it back.
E3 2017 sports games: Madden NFL 18 (PS4, Xbox One, PC?)
There's a lot to learn about Madden 18. We know Tom Brady is the cover athlete. We also know there will be some sort of story mode similar to The Journey in FIFA, but are the letters "PC" a misprint in that aforementioned Game Informer article?
The last Madden game that was available for PC was Madden 08; the game hasn't appeared on the format since — because, per EA: The demand isn't there.
We'll likely find out at E3, or even beforehand at EA Play on June 10, if Madden is heading back to PC.
E3 2017 sports games: NBA Live 18 (PS4, Xbox One, PC)
Just like Madden, NBA Live 18 is also listed as a PC release. Never mind that label here, though; there are far more compelling angles to contemplate with this series.
Simply seeing an NBA Live title actually make it to its release date is news in itself. This one looks like its going to be a go, but the feedback and discussion on this game will likely be the loudest surrounding any sports video game on display during the week. 
More sports gaming news and updates
Love sports games? Check out more content from Mic, including tips for leveling up your MLB The Show RTTS player, the new story mode in Madden 18, a wish for the WWE 2K18 release, and a detailed sports video game release calendar.