Uber just fired 20 employees for harassment, bullying, discrimination and more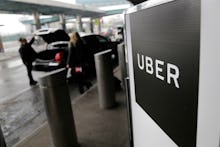 Uber may have a systemic harassment issue after all.
Uber's head of HR and Arianna Huffington — a board member brought on to lead efforts against workplace sexism — have both claimed the company is not plagued with systemic issues of sexism. As it turns out, those statements don't hold water.
More than 20 Uber employees have been fired following a company investigation into claims of sexual harassment, an unnamed source told Bloomberg. This investigation is separate from the one led by former U.S. Attorney General Eric Holder. Discussions about findings on this specific probe have been delayed.
An Uber spokesperson confirmed these numbers to Mic. They added that these details were shared with Uber employees in a meeting on Tuesday. The terminations were not exclusively based on sexual harassment, according to a spokesperson, but also fell into categories like discrimination, unprofessional behavior, bullying, harassment, retaliation, etc.
The spokesperson added that Uber has doubled its employee relations team across the globe, and that the team now reports to Liane Hornsey, Uber's chief of HR. The company has also implemented a system to log and track all employee complaints as well as revised its employee handbook. The results and takeaways from Holder's investigation will be presented to Uber employees at next week's all-hands meeting, according to the spokesperson.
Uber's inquiry is led by Perkins Coie LLP, which reviewed 215 human-resources claims at the ride-sharing company. It took no action in 100 claims and is still investigation 57 others, Bloomberg reported. The issues run the gamut from sexual harassment to discrimination, retaliation and other issues.
It recently came to light that a male Uber employee filed a lawsuit against the firm for retaliation after he stood up for female colleagues who claimed they experienced sexual harassment.
These investigations were sparked after former Uber employee Susan Fowler published a blog post detailing issues of sexism and sexual harassment she encountered during her tenure. Fowler pointed out the contradictory sentiments of both Huffington and Hornsey versus the findings of the investigation.
"Often harassment in tech is an abuse of power," Julie Horvath, an Apple engineer who left GitHub in 2014 after outing the company's sexist internal work culture, previously told Mic, suggesting Huffington isn't the right person to lead Uber's efforts against workplace sexism. "How can someone who is in a position of power, at the top of the food chain, relate or objectively examine a systemic issue like harassment in tech?"
Mic has reached out to Uber for comment and will update this story when we hear back.