NYC doctor arrested for allegedly writing 14,000 unnecessary oxycodone prescriptions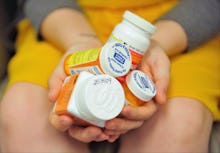 A New York City doctor was arrested on Monday for allegedly handing out thousands of unnecessary painkiller prescriptions — despite knowing that some of his patients were hooked on the addictive opioid drugs.
According to the New York Daily News, 81-year-old Dr. Martin Tesher allegedly wrote in excess of 14,000 unnecessary oxycodone prescriptions over the course of almost five years. Authorities told the paper that the prescriptions amounted to 2.2 million oxycodone pills, or about $20 million worth of opioids.
The United States is currently in the throes of a devastating opioid epidemic, and the overprescription of painkillers is often fingered as one of the main entry points for addictions to the harder, cheaper street opiates like heroin and fentanyl.
According to the American Society of Addiction Medicine, more than 2 million Americans struggled with prescription painkiller addiction in 2015.
On his website, where the Montreal-born Tesher describes himself as an "old-fashioned family doctor" who believes in "old-fashioned service," pain management is listed as one of his specialties.
But according to the Daily News, Tesher didn't hesitate to write one NYPD informant a prescription that would have allowed the individual to take up to 15 oxycodone pills a day for a month — despite Tesher's believing that the patient was already struggling with addiction.
A second patient, who was also a police informant, told Tesher they were struggling with an addiction to painkillers, but still received "hundreds" of oxycodone pills each time they visited his office.
Acting Brooklyn U.S. Attorney Bridget Rohde said that Tesher "used his position as a doctor not to heal but to foster opioid addiction," the Daily News reported.
Tesher reportedly faces up to 20 years in prison for a charge of distributing a controlled substance. He was released on Monday on a $250,000 bond.