First Amendment group demands Trump unblock people on Twitter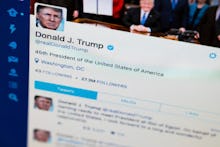 The Knight First Amendment Institute on Tuesday sent a letter to the White House asking President Donald Trump to unblock accounts that have criticized him Twitter, calling the blocking "unconstitutional."
The Knight Institute, based out of Columbia University, represents two individuals who said they were blocked on Twitter after posting critical comments directed at the commander-in-chief on the social media site.
"The Twitter account operates as a 'designated public forum' for First Amendment purposes, and accordingly the viewpoint-based blocking of our clients is unconstitutional," the letter read. "We ask that you unblock them and any others who have been blocked for similar reasons."
The group also defended their clients' criticism of Trump, characterizing it as protected speech under the First Amendment.
The letter is signed by Knight Institute executive editor Jameel Jaffer, senior litigator Katie Fallow and staff attorney Alex Abdo.
Trump has previously been called out for blocking people on Twitter and has faced scrutiny for deleting his tweets. In March, the House Oversight Committee requested information about whether such deleted tweets violated the Presidential Records Act.
"When new communications platforms are developed, core First Amendment principles cannot be left behind," Fallow said in a press release about the letter. "The First Amendment disallows the President from blocking critics on Twitter just as it disallows mayors from ejecting critics from town halls."
Read the full letter here.