The 23 most essential storylines of LGBTQ television history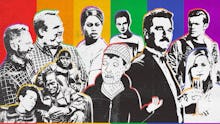 Modern audiences are so accustomed to LGBTQ storylines that it's almost unusual when hit shows don't feature queer characters. Even Disney has joined the fray, with Star vs. the Forces of Evil, featuring Disney's first-ever same-sex TV kiss in February.
However, it hasn't always been like that. As the LGBTQ rights movement has progressed, certain shows have taken major risks in order to help shape a television landscape that fairly depicts LGBTQ individuals.
To honor those shows, we've compiled an unranked list of the most influential, heartfelt and groundbreaking storylines of the last 45 years.
1. Queer as Folk: Queer bashing
One could argue that every storyline on Queer as Folk was important. This 2000s Showtime series was constantly turning heads for its unflinching, nuanced portrayals of queer sexuality on mainstream television. But when the normally frothy show doubled down on a cautionary queer bashing storyline at the end of its first season, it reminded viewers that homophobia was — and still is — potentially deadly.
Viewers' hearts soared when teenage Justin took Brian to prom, but they broke just as quickly when Justin's homophobic classmate sent him to the ICU on a stretcher.
2. The Real World: San Francisco: Pedro's experience with AIDS
While not a fictional storyline, Pedro Zamora's brave on-air experience with AIDS in 1994's Real World: San Francisco was a turning point for gay male visibility.
By giving producers full permission to chronicle his heartbreaking decline, the immensely likeable Zamora humanized HIV-positive men for viewers and drew widespread attention to the ongoing AIDS crisis. His commitment ceremony with partner Sean Sasser was the first to be aired on TV, which only further solidified his place in history.
3. Orange Is the New Black: Sophia's backstory
Sophia Burset isn't perfect — she's a criminal, after all — but her storylines on Orange Is the New Black are milestones for trans representation. When OITNB premiered in 2013, its flashbacks for Sophia, a trans woman played by Laverne Cox, introduced many viewers — both straight and less straight — to the challenges that trans men and women face daily.
Cox's prominence in the first season also helped shoot her to stardom, and in 2014 she became the first trans person to grace the cover of Time.
4. Dawson's Creek: Jack kisses Ethan
Dawson's Creek is famous for a few things: The careers of Michelle Williams and Katie Holmes, Dawson's crying face and TV's first romantic same-sex male kiss in 2000. (Will and Jack kissed on Will & Grace that same year, but only to make a political statement.) Though not initially a gay character, Jack McPhee came out in season two at the behest of Scream writer Kevin Williamson, who is an out gay man himself.
As the show progressed, Williamson collaborated with out staff writer Greg Berlanti to give Jack realistic, affecting storylines about his sexuality — including the famous 2000 kiss. Though Jack soon learned that his on-screen paramour, Ethan, had a boyfriend, his subsequent discussion with his father about his sexuality introduced many viewers to the realities of being a gay teen.
5. Will & Grace: Will calls Jack a "fag"
When Will called Jack a fag in season one's "Will Works Out," the studio audience was dead silent. Not even a nervous chuckle. It was a testament to the power of the word: Audiences knew it was a terrible slur.
But then the show explored the ramifications of that word and exposed Will's internalized homophobia in the process. As Grace pointed out, Will had only volleyed the insult at Jack because he was embarrassed by Jack's more overt homosexuality — and, thus, his own homosexuality.
It was a progressive point to make on an otherwise uncontroversial show, and it still resonates today. Gay men continue to pick each other apart, and the prevalence of "masc 4 masc" dating profiles suggests gay men still prefer masculinity to overt homosexuality. It might be time for some required viewing.
6. Ellen: Ellen comes out
When bookstore owner Ellen Morgan came out on Ellen's 1997 "The Puppy Episode," it was the first time any television character had come out of the closet — a move so controversial that producers added parental warnings to subsequent episodes. Ellen DeGeneres, who had come out in real life only weeks earlier, faced immediate backlash for portraying the character, but her subsequent dating storylines opened the floodgates for future LGBTQ characters.
Although Ellen only lasted one more season, it had already secured a spot in entertainment history.
7. Roc: First televised same-sex wedding
Though some critics credit Roseanne for airing TV's first same-sex wedding, that honor actually goes to Roc. Otherwise unremarkable, this Fox sitcom made major progress in 1991 when it depicted the Emersons coming to terms with a family member's sexuality.
As Roc, the main character, hosted a same-sex wedding ceremony for the relative in his home, Roc showed mainstream audiences what a not-so-distant future of acceptance would look like.
8. The Wire: Brandon's death
Even former President Barack Obama loved Omar. The stereotype-busting character was arguably the most revolutionary gay character of all time when The Wire debuted on HBO in 2002 — and he possibly still is. Brilliant, passionate, tortured, resilient, angry, violent and sensitive, Omar was a breathtakingly complex gay character at a time when television badly needed it.
When his boyfriend Brandon was murdered early in season one, it sent Omar on a revenge-fueled journey that rippled throughout the entire series. His debilitating grief and pain showed how essential his sexual identity was to his character.
9. Buffy the Vampire Slayer: Willow goes dark
Buffy was known for Willow and Tara's healthy, loving relationship — possibly the most high-profile depiction of a long-lasting queer female romance at the time. (Buffy ran from 1997 to 2003, while Tara and Willow dated from 1999 to 2002.) However, when Tara was accidentally killed toward the end of season six, the story really kicked into gear. As Willow embarked on a dark rampage and vowed to destroy the world, Buffy showed how truly powerful queer love could be.
10. As the World Turns: Nuke
Previously a birthing ground for grandma-friendly stories about amnesia, daytime TV suddenly became a lot queerer in 2007 when As the World Turns aired daytime TV's first same-sex kiss. ATWT never looked back, and the show's superstar same-sex couple, Luke and Noah — aka "Nuke" — soon found themselves adrift in the formerly hetero-exclusive land of meaningful looks and convoluted melodrama.
11. Crazy Ex-Girlfriend: Darryl's bi pride
When White Josh planted a cutesy kiss on Darryl's cheek in season one of Crazy Ex-Girlfriend, it sent middle-aged Darryl into an immediate tailspin. He'd never been attracted to a man before, but he'd definitely felt somethin' special, so... what did that mean exactly? Cue identity crisis.
Later, after finding himself ogling both men's and women's butts in a cardio mambo class, he finally realized he might be bisexual. But unlike other TV depictions of male bisexuality, this wasn't a shock tactic or an excuse for eye-popping gay sex. This was a story about discovery. When Darryl proudly announced his sexuality to his co-workers in — what else — a cheesy '80s-tribute called "Getting Bi," he had officially begun busting stereotypes.
12. Bojack Horseman: Todd's asexuality
Bojack Horseman trotted down a dark path in the third season, but at least one character found some respite. After several aimless dating attempts, Todd revealed to a love interest in the season finale that he might be asexual. In his words, "I'm not gay. I mean, I don't think I am. But I don't think I'm straight either. I don't know what I am. I think I might be nothing." The internet, predictably, went nuts. The moment added significant depth to an otherwise goofy sidekick and marked Todd as possibly the first asexual character on television.
13. Grey's Anatomy: Calzona separation
For six seasons, Callie and Arizona held tenure as a top couple on Grey's Anatomy. While their relationship, and Callie's bisexuality, were welcomed for their collective approach to queer female representation, it was their separation that stood out as significant. Grey's didn't shy away from telling the messier, grittier parts of their separation and subsequent custody battle, which humanized them for straight viewers even more than their romance did.
14. Shameless: Mickey and Ian
Hey, hot-tempered petty criminals can be gay, too! That's the lesson Shameless aimed to teach with its portrayal of Mickey Milkovich, a loud, violent, profane teen who came out to his dad in a bloody bar brawl. Played by Noel Fisher, Mickey was a worthy antithesis to the TV landscape's chaste, family-friendly offerings of gay men in 2014.
Although Mickey wasn't the first violent working-class gay character to appear on TV, his long-gestating relationship with Ian Gallagher was as complex and challenging as they get — a modern paradigm of LGBTQ storytelling.
15. Six Feet Under: David and Keith
Michael C. Hall earned an Emmy nomination for his outstanding work as David Fisher, a repressed, fiercely brave gay man in a family of undertakers. His character, though flawed, was heralded as one of the first truly nuanced gay men to appear on television, while his relationship with Keith was one of the first interracial queer relationships to be depicted on TV. Six Feet Under broke down racial and sexual barriers with its clear-eyed take on David's journey to self-fulfillment.
16. Modern Family: The kiss
After eight seasons, Cam and Mitch may have been together longer than any other gay couple currently on TV. Still, they spent Modern Family's entire first season in a sexless limbo devoid of anything resembling physical human affection. After frustrated fans made a Facebook petition calling for the partnered couple to loosen up a little, Modern Family producers gave in and had the co-parents kiss in a 2009 episode, naturally titled "The Kiss."
Although it was a blink-and-you'll-miss-it moment, it still wouldn't have happened without that horde of fans clamoring to see the two lock lips. The outcry was a telling sign of how comfortable television audiences had become with same-sex affection.
17. Schitt's Creek: David's pansexuality
For his role as David Rose on Schitt's Creek, Dan Levy plays the character as campy, sassy and obsessed with Givenchy. But David bucked stereotypes almost immediately in the show's first season when he hooked up with Stevie, a cute and snarky hotel clerk played by Emily Hampshire. Although the two decided to stay friends, the moment was groundbreaking in the way it depicted pansexuality — a fact acknowledged by Levy himself.
While many people assume femme gay men are limited to homosexual experiences, David is the rare example of a queer man who refuses to acknowledge the Kinsey scale.
18. The Fosters: Jude and Connor's young love
As the entertainment landscape continues its march toward equality, shows are constantly finding new ways to break down barriers. The Fosters did just that in 2015 when it featured the youngest same-sex kiss in TV history with bestie 13-year-olds Jude and Connor. For any 12-year-old or 13-year-old viewers grappling with their sexualities, this would have been a powerful opportunity for self-identification.
19. LA Law: First-ever same-sex kiss
In 1991, a character named C.J. kissed a character named Abby on NBC's hit show LA Law — and the TV landscape was never the same. Although C.J., an out lesbian, was later written off, and Abby eventually ended up with a man, the moment had still made history as the first-ever same-sex kiss on television. Michele Greene, who played Abby, later said the kiss was a ratings grab, but that didn't diminish its impact.
20. That Certain Summer: TV's first gay relationship
Although TV's first out gay main character arrived in the form of Billy Crystal's Jodie in ABC's late '70s parody show Soap, TV's first gay relationship had already appeared several years earlier. In the 1972 TV movie That Certain Summer, Hal Holbrook and Martin Sheen played loving partners as they tried to hide their relationship from Holbrook's character's son. Homosexuality wouldn't be removed as an illness from the Diagnostic and Statistical Manual of Mental Disorders until the following year, so the movie's mostly positive depictions were truly revolutionary at the time.
21. Glee: Kurt comes out to his dad
During the early half of its six-season run from 2009 to 2015, Glee was the premier spot for feel-good stories about outcasts. Every character was an outsider — even the cheerleader — and every major storyline shot for the tear ducts.
One of the show's best creations was Kurt, a flawed gay teen with a supportive dad. He wasn't the first flawed gay teen on TV — and he wasn't the first with a supportive dad either — but he arrived during the days of It Gets Better, when bullying of gay teens was a national concern. In the first season, Kurt's fiercely protective father, an all-American man's man played by Mike O'Malley, showed parents across the country how to properly accept their gay children.
22. Big Brother 16: Zankie
Gay-straight bromances are nothing new to TV, but Zach Rance and Frankie Grande, aka Zankie, took things to the next level on Big Brother 16. While Rance, who identifies as straight, seemed like he was leading Grande on at first by play-flirting with him, it soon became clear that Rance genuinely loved Grande (platonically).
Although the couple never did more than kiss chastely, they proved in 2014 that men can be physically close and emotionally supportive without being sexual. Rance, seemingly devoid of any homophobia, served as a role model for straight best friends everywhere.
23. Billions: Taylor's introduction
Taylor, a brilliant intern played by Asia Kate Dillon, acknowledged their gender nonbinary identity right off the bat in the season two premiere of Showtime's Billions. In just one line — "Hello sir, my name is Taylor. My pronouns are 'they, theirs and them'" — Dillon became the first-ever gender nonbinary character to grace the TV screen.
Although their boss, a Machiavellian Damien Lewis, was confused by the label at first, Taylor's identity quickly became a nonissue as they climbed their company's ranks and eventually became CIO.
Mic has ongoing television coverage. Check out our main TV hub here.