'Mass Effect: Andromeda' Patch 1.08: Jaal added as a romance option for Scott Ryder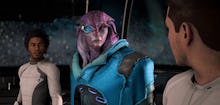 BioWare finally detailed its plans for the newest Mass Effect: Andromeda patch, version 1.08 — and it's huge. Jaal will soon be a romance option for Scott Ryder in an attempt to address widespread criticisms over the game's lack of male-male romances in comparison to its other romance options.
"The relationships between your crew are some of the most loved and cherished parts of our games, so we wanted to make sure we got it right," BioWare said in the blog post announcing the update. "We consulted with members of the LGBTQ community, both externally and within our own studios. After carefully considering all feedback, we decided this was an important change to make, and one that made sense for Jaal, Scott and the angara."
This new patch will also address two other massive concerns that fans had. First, it will improve the dialogue for the transgender character Hainly Abrams, such that she does not reveal her trans identity until the player has earned her trust.
Second, it will also expand the game's character creator, adding two new head presets, making all hairstyles gender neutral, adding a new complexion option and expanding the variety of skin tones. For those of you who are already halfway through a game, don't worry: The new patch will also allow you to change Ryder's appearance in the middle of a game.
BioWare has not said when this patch will be available for download just yet. The full patch notes are embedded below.
Mass Effect: Andromeda 1.08 patch notes
SINGLE PLAYER
More gaming news and updates
Check out the latest from Mic, like this essay about the sinister, subtle evils lurking in rural America that Far Cry 5 shouldn't ignore. Also, be sure to read our review of Tekken 7, an article about D.Va's influence on one Overwatch player's ideas about femininity and an analysis of gaming's racist habit of darkening villains' skin tones.