Bill Cosby's accuser Andrea Constand testifies at trial: "I was frozen."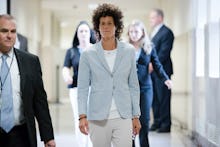 After more than 10 years of silence, Andrea Constand finally told her story. She testified in Norristown, Pennsylvania's Montgomery County Courthouse Tuesday.
The former Temple University employee recalled how comedian Bill Cosby invited her to his suburban Philadelphia home under the pretense of giving her career advice, NBC reported.
Constand told the prosecutors that Cosby gave her three blue pills "to take the edge off." Constand trusted Cosby, she said, so she accepted, but instead of calming her down, the pills left her hazy, unable to speak or see clearly. She told the court she passed out, but "jolted awake" to find her former mentor groping her breasts, she said, according to NBC.
"In my head, I was trying to get my hands to move or my legs to move, but I was frozen," she said, according to the Hollywood Reporter. "I wasn't able to fight in any way."
"I wanted it to stop," she continued.
Constand, 44, said that Cosby then proceeded to digitally penetrate her and forced her to give him a hand job. "I felt really humiliated and I felt really confused," she said.
The testimony tracks with the account Constand gave police in 2005, in the course of a lawsuit against Cosby that was settled in 2006. She has been barred from speaking publicly about the incident since, per the settlement's terms. She is one of 60 women who have publicly accused Cosby of sexual assault and/or harassment.
Only one of Cosby's other accusers has been allowed to testify at his trial: Kelly Johnson took the stand Monday and described how, in 1996, Cosby gave her pills to help her "relax" while she was visiting him in his bungalow at the Bel Air Hotel. Cosby had invited her to have lunch with him again under the guise of offering career guidance. Instead, he made her take a pill that left her feeling woozy — unable to "understand the sense of time or anything," Johnson said, according to Jezebel. And the next thing she knew, Jezebel reported she said, she was on the bed with her skirt pulled up and her breast exposed, with Cosby forcing her to touch his genitals.
"I was humiliated and embarrassed," she reportedly said, explaining why it took her so long to come forward. "I was very afraid. Because I had a secret about the biggest celebrity in the world."
Follow all our coverage of the Bill Cosby trial here.