4 of Rachel Lindsay's 'Bachelorette' contestants we want to see on 'Bachelor in Paradise'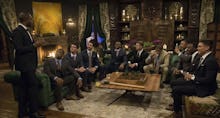 Where do Bachelorette contestants go once they're booted from the competition? Some go home — and others go to "paradise."
ABC has announced the season four cast of Bachelor in Paradise, the spinoff reality series where single Bachelor and Bachelorette alumni live in Mexico for a wild couple weeks of fun in the sun. The lineup includes some of the women from Nick Viall's recent season — like Raven Gates and Corinne Olympios — along with some other fan favorites from previous years.
A handful of competitors who have their heart broken by Rachel Lindsay in season 13 of The Bachelorette will also have a second opportunity to find love on Bachelor in Paradise. DeMario Jackson is the season's first official contribution to the cast after he was sent home early following Rachel's discovery that he had a secret girlfriend.
Rachel's season has only just begun — and some of these men haven't even been eliminated — but we can still fantasize about our dream Bachelor in Paradise season four cast.
Alex
Alex had a bit of a silent edit in episodes one and two, but his dance moves on Ellen in episode three definitely earned him some screen time. If Rachel doesn't scoop up Alex, then we'll be happy to watch him woo other women on Bachelor in Paradise.
Hopefully he won't be banned for admitting to peeing in the pool at the Bachelor mansion.
Fred
Poor Fred. His history with Rachel ultimately led to him going home early. He spent most of his screen time trying to explain to her that he's not the same mischievous kid that she remembers from elementary school, but Rachel couldn't shake the memory. Fred seemed sweet and innocent, it would be fun to see him in an environment where potential suitors don't have pre-existing knowledge of him.
Will
Will appears charming. However, sparks aren't exactly flying between him and Rachel. He's definitely gotten further than some of the guys — sorry, Jonathan! — but other contestants seem to be developing a deeper connection with The Bachelorette star. Will's playfulness would be fun to watch on Bachelor in Paradise, though.
Dean
Dean is currently one of the frontrunners of Rachel's season, but if things don't work out there will be plenty of women on Bachelor in Paradise happy to see him. The consensus among Rachel's friends is that Dean is a total catch.
Bachelor in Paradise season four premieres on ABC on Tuesday, Aug. 8.