5 dramas that can win Emmys now that 'Game of Thrones' can't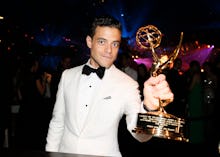 The long-awaited seventh season of the HBO series Game of Thrones is set to return on the wings of dragons July 16. Unfortunately, this makes it ineligible for the 2017 Emmy Awards, as the eligibility period came to an end May 31.
That said, there are plenty of other dramas primed to take the coveted outstanding drama series award, which Game of Thrones won the last two years. Not surprisingly, the shows at the top of the list were also contenders for the prize in 2016.
In no particular order, here are those five.
This drama about Russian spies living as an American family was snubbed by the Emmys for three years before it finally started getting noticed. It received five nominations in 2016, but only Margot Martindale won for outstanding guest actress in a drama series. Considering the current political state of the world, however, a win this year would be both relevant and deserved.
Another timely series about what darkness lies behind political doors, this Netflix series has won six Emmys since its inception but have never taken home the Emmy for outstanding drama series. It was up for 12 awards in 2016, including outstanding drama, lead actor and lead actress, so it looks primed to start nabbing those bigger prizes.
With only two seasons under its best, Mr. Robot has taken home two Emmys — one for lead actor Rami Malek and another for original music composition. It may be more of the underdog series, but the way it matured this past season could give it a boost in the 2017 awards circle.
Showtime's intense drama about terrorism abroad had its heyday back in 2012, when it was just getting started. It won six Emmys that year — including one for outstanding drama series — but since then, it's mostly been relegated to nominations only. Could it make an 11th-hour comeback?
Now in its third season, this AMC prequel to Breaking Bad has found its stride. It has yet to win an Emmy, but it was up for seven in 2016 — so this season could be what finally takes the show to the top.
There are, of course, newer dramas that could shake things up at the 2017 Emmy Awards. For example, Netflix's The Crown took home best drama series at the 2017 Golden Globes, so it could easily become a contender at the Emmys.
Simply put, thanks to Game of Thrown's absence, it could be anybody's game when nominations are announced July 13. It'll be interesting to see if any curveballs are thrown into the mix.
Mic has ongoing TV coverage. Please follow our main TV hub here.