Kalief Browder's death reminds us of the link between depression and incarceration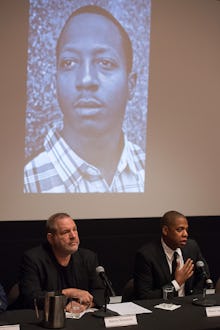 Two years ago Tuesday, 22-year-old Kalief Browder died by suicide just two years after his release from Rikers Island.
Browder's trauma within the criminal justice system began early. He was arrested and charged at age 16 on allegations of robbery, grand larceny and assault, landing him on Rikers Island — where he spent roughly 800 of 1,000 days in solitary confinement, despite never being convicted of a crime.
"Kalief was certainly a normal family member before he went to jail," Akeem Browder, Kalief's brother, told Essence on Tuesday. "No one's realizing the uniqueness of being in jail and the conditions of being in jail, like solitary confinement, or what they did to Kalief. Like, teach him to commit suicide."
At Rikers, Browder said he was repeatedly starved, and video showed him being abused at the hands of corrections officers and other members of the prison population. He was among many inmates subjected to inhumane treatment at the facility. Former U.S. Attorney Preet Bharara once stated the violence at Rikers Island was "more inspired by the Lord of the Flies than any legitimate philosophy of humane detention."
In recent years, several movements to close Rikers have sprung up across the greater New York area. The #CLOSErikers campaign noted that "violence by the DOC staff against detainees rose every year from 2008 to 2014." In addition, more than 40% of detainees have a diagnosed mental health issue, a number higher than all New York State's adult psychiatric patients combined.
Before his death in 2015, Browder attempted suicide several times while in solitary confinement, the first of which took place just 10 months after arriving at Rikers. Through each of these occurrences, he never received proper medical treatment. By the time he was released in 2013, Browder had years of untreated mental health issues to deal with.
That's why Akeem Browder co-created the Kalief Browder Foundation. One of the organization's three main goals refers specifically to mental health wellness and reads as such:
To understand that those that are impacted in the unique way that is only common to people behind the walls of incarceration, unlike post-traumatic stress from military personnel or in circumstances of natural disasters, child abuse or any of its wide spectrum; humans in captivity suffer unique symptoms that we demand treatment to be specific to their trauma.
According to one study, prisoners subjected to solitary confinement often suffer serious mental health issues. For inmates like Browder, who exhibited prior symptoms of mental illness, the report found such isolation can "exacerbate their symptoms or provoke recurrence."
Browder's death reminds us that within the quest to ensure black lives matter is the task of making mental health a priority in the black community. On the foundation website, Akeem Browder wrote that he hoped others also speak up about the issue.
"Kalief let the world know of the injustices of the Department of Corrections by not being silent," Akeem Browder said. "We need to change the culture of this topic and make it OK to speak about mental health and suicide."