iOS 11 Message Effects: New echo and spotlight effects are coming to Messages for iPhone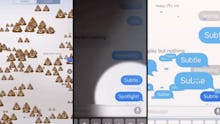 Apple announced iOS 11 during WWDC on Monday. The public beta of iOS 11 is "coming soon," according to Apple, but a (rather buggy) developer version is out now. The prototype software brings with it new enhancements to the iPhone, like easy screen recording (sorry, Snapchat!). Among the other changes: new effects in Messages.
Echo and Spotlight: Two new message effects join balloons, confetti, lasers, fireworks and more
Message effects were introduced in iOS 10. With the update, Apple let common phrases like "congratulations" and "Happy New Year" to be accompanied by confetti or balloons. Users can add these effects to any message with 3-D Touch: Push into the message on the touchscreen for the full menu. Now it looks like Apple is bringing users a few more.
iOS 11 Message effects: Echo
iOS 11 Message effects: Spotlight
The Echo effect repeats your message across the screen in varying sizes. The Spotlight effect mimics what you'd see on the stage of a theater, or from a police helicopter if you're a villain in a Saturday morning cartoon. Some may scoff at the new options, but I like them. Their uses are virtually limitless. Look how cool this is, for example:
It's also useful if you want to be evil.
Or play innocent when you've just been caught.
When it's after-hours and you're texting that special someone? The new effects have you covered there too:
iOS 11 Message effects: iOS 10 users miss out on the fun, for now
Unfortunately, if you're using Apple's current stable operating system, iOS 10, you'll see this instead.
Those without iOS 11 installed will see a "sent with echo" below the original text. A "Replay" button will appear, even though you couldn't play the animation in the first place. (I recently set my phone to Spanish, so it sends an "enviado con eco" instead.)
Interestingly, the Spotlight effect doesn't offer a replay button or a "sent with Spotlight" clarifier. Maybe the public version of iOS 11 will fix that.
There are lots of other new features that'll make iOS 11 worth the update. But this is the only one with flying poop.