Jeff Sessions proposed resignation after Russia recusal enraged Donald Trump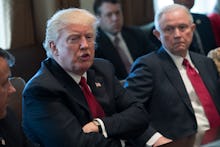 Attorney General Jeff Sessions allegedly proposed his possible resignation to President Donald Trump in a recent meeting amid an increasingly fraught working relationship, ABC News reported Tuesday, citing anonymous sources close to the president.
According to the ABC report, Trump remains so angry with Sessions over the latter's decision to recuse himself from all matters related to ongoing investigations into Trump's widely rumored ties with Russia that he "lashed out repeatedly at the attorney general in private meetings." Sources told ABC News the president personally blames Sessions for the expanding scandal, which now counts multiple congressional inquiries, a special counsel and an FBI investigation.
Sessions was forced to recuse after news broke he had failed to disclose private meetings with Russian Ambassador Sergey Kislyak, casting doubt on his impartiality. Kislyak is the same official whose secret phone call with former national security adviser Michael Flynn eventually led to Flynn's resignation.
Also on Tuesday, the New York Times reported former FBI Director James Comey had told Sessions he did not want to be left alone with the president after Trump asked him to shut down the FBI's Russia investigation.
Sessions was one of the administration officials who later aided Trump in firing Comey, seemingly violating the prior terms of his recusal. The president later freely admitted he had fired Comey over the Russia investigation.
Losing the attorney general would be a crushing blow to Trump's administration.
If Sessions were to drop out, the president would lose a key ally who'd be difficult to replace during the ongoing Russia investigations. A departure would also widen the gaping hole his administration has already left among top national security and law enforcement roles, leaving one of its most prominent jobs empty.
ABC News noted on Tuesday that White House press secretary Sean Spicer declined to comment on whether Sessions held the president's confidence, saying, "I have not had that discussion with him."
Comey will testify in Congress on Thursday regarding the events preceding his termination, with the testimony widely expected to contain damaging revelations about Trump's administration.