'Tekken 7' Nintendo Switch Release Date: Could 'Pokkén' stop a proper 'Tekken' launch on Switch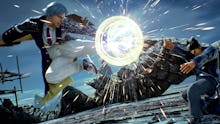 The Tekken 7 release date has come and gone, but Nintendo Switch owners are still without the new fighting game. Already available on Steam for PC, PS4 and Xbox One, the latest entry in the classic series begs for some classic one-on-one action. Why, then, has Tekken 7 not come to Nintendo Switch, a console made with local multiplayer in mind?
Being able to remove the Joy-Con and start a game anywhere has its pluses. So will we ever see Tekken 7 for the Switch?
Tekken 7 Nintendo Switch: Could Tekken come to the convertible console?
It would be foolish to hold your breath for a Nintendo Switch version. In an interview with GameSpot, Tekken 7 producers Katsuhiro Harada and Michael Murray revealed that Tekken developer Bandai Namco has a strict policy regarding talking about games that will come to Switch. They went on to cite the console's stock issues as as reason they haven't had the chance to work on Switch games.
"We couldn't even buy it," Harada said. "It was sold out every time we went to look for it."
Tekken 7 Nintendo Switch: Is Pokkén preventing an actual Tekken game on Switch?
The recently announced Pokkén Tournament DX could be seen as a stand-in for Tekken 7 on the Switch. What's more appropriate on a Nintendo system, after all, than a Pokémon-themed fighting game?
While the Pokémon version of Tekken is a worthy game in its own right to have on the Switch, Tekken 7 also has its place on the system. For those who want to play Tekken but have no interest in pocket monsters, the actual fighting game with human challengers is much more appealing.
As for Pokkén Tournament on Switch being the reason that Tekken isn't on the system, that's tough to say for anyone outside of Bandai Namco. If it really is stocking issues preventing the Nintendo Switch from getting games like Tekken 7, it seems Nintendo has even more reasons to get their console on store shelves.
Check out more gaming news and coverage
Check out more video game content on Mic, including which Pokémon are actually the best and why black players can never seem to get custom characters that look like them. Learn more about how blind gamers are getting in on the fun and that Injustice 2 appears to be nerfing its female characters. See why we love Twintelle (and why we hate Twintelle) in the upcoming Arms, and don't miss our guide to dodging blue shells in the Mario Kart 8 Deluxe — you can thank us later.