'Overwatch' Double XP Weekend: Here's when the special event starts and ends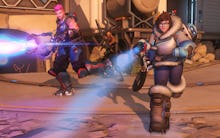 Blizzard really doesn't want you to stop playing Overwatch once the Anniversary event ends, because it just announced a double experience weekend that starts in the event's last few days.
Overwatch double XP weekend start and end times
Between Thursday, June 8, at 8:00 p.m. Eastern and Tuesday, June 13, at 2:59 a.m. Eastern, you'll earn double the normal amount of experience for the following activities:
• Time spent in a match
The only activity that's not getting doubled in experience is the "first win of the day" bonus, which will continue to award the standard 1500 experience points.
And, yes, in case you were worried, that double experience bonus stacks with the 20% bonus in experience you always earn when you're grouped up with friends.
Keep in mind that the anniversary event doesn't end until June 12 (June 13 Eastern time), so that means you'll have several days in which you'll be earning those anniversary loot boxes twice as quickly. If you need a refresher, here are all those anniversary skins. Good luck!
More Overwatch news and updates
For more on Overwatch, check out the rest of what Mic has to offer. Here is an essay about how Efi Oladele was a missed opportunity for Overwatch, a deep dive into the issue of sexual harassment in Overwatch voice chat, an unintentionally hilarious infographic showing the most popular Overwatch characters in each state, a criticism of Blizzard's failures in its design of Symmetra and a dive into a cool trend on Tumblr that converts your most-played heroes into a psychedelic illustration.