Report: Trump tried to have top intel officials shut down Comey's Russia investigation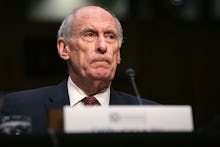 President Donald Trump asked Director of National Intelligence Dan Coats for his assistance in throwing FBI Director James Comey off of the agency's investigation into Trump's widely rumored ties to Russia, the Washington Post reported on Tuesday, citing anonymous officials.
According to the Post, Trump allegedly asked all officials present at a March 22 meeting, besides Coats and CIA Director Mike Pompeo, to leave the room before he proposed Coats intervene with Comey to cool off on the Russia investigation. Just days before, Comey had said in a congressional hearing the FBI was indeed investigating whether Trump's campaign colluded with Russian intelligence assets during the 2016 elections.
Coats later determined it would be inappropriate for him to do so. The Post report did not mention whether Trump had made a similar request of Pompeo, or if so, how he responded.
If true, the incident would mean Trump attempted to enlist top intelligence officials in quashing an active FBI investigation against himself — a move with much more far-reaching implications than a prior report indicating the president asked Coats and national security agency chief Adm. Mike Rogers to simply disavow the Russia rumors to the public.
Trump later fired Comey, with a report in the New York Times on Tuesday indicating Comey had directly asked attorney general Jeff Sessions not to leave him in the room alone with Trump again after the president directly asked him to shut down the investigation.
Coats will be testifying before the Senate Intelligence Committee on Wednesday, followed by Comey on Thursday.