Trump praised Arab nations decision to cut off Qatar possibly caused by Russian hackers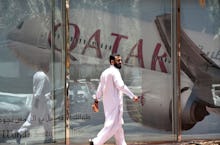 The decision by several Arab nations to cut off diplomatic and commercial relations with the country of Qatar, a move President Donald Trump took credit for on Twitter, may have been influenced in part by Russian hackers, CNN reported on Tuesday.
The Arab countries of Saudi Arabia, the United Arab Emirates, Egypt, Bahrain and Yemen, as well as the South Asian island nation the Maldives, all severed ties with Qatar this week, saying the nation was a state sponsor of terrorism. Saudi Arabia, Qatar's sole land border, cut off all land, sea and air links to the country, while the nearby UAE has ceased providing Qatari flights and shipping. Numerous airlines have halted air traffic to and from Qatar and its http://www.aljazeera.com/news/2017/06/saudi-arabia-uae-egypt-bahrain-cut-ties-qatar-170605031700062.htmlnationals in other countries have been directed to leave within two weeks.
The dispute is over Qatar's alleged financial and political backing of the Muslim Brotherhood, an Islamist group, and how close Qatar is to Iran (which has hostile relations with Saudi Arabia). Trump, who spoke of the need to confront terrorism during a recent trip to Saudi Arabia, proudly touted Qatar being cut off by the other nations on Twitter, taking personal credit despite Qatar's status as a close U.S. ally and home of the region's largest U.S. military base.
However, CNN reported an FBI team is aiding Qatari authorities in investigating whether Russian hackers broke into the country's state news agency to plant fake news reports, which were then in part responsible for the crisis.
The fake report on May 23, "attributed false remarks to the nation's ruler that appeared friendly to Iran and Israel and questioned whether President Donald Trump would last in office," according to CNN, and landed at exactly the time tensions were escalating over its alleged funding of terror groups.
Seemingly lost in Trump's approach to the situation was an acknowledgement Saudi Arabia is a major human rights violator itself and has been repeatedly accused of funding extremist groups. Trump recently agreed to provide the Saudi monarchy with over $100 billion in weaponry, despite its role fueling international terror attacks in the U.S.
Taking credit for a decision motivated in part by literal Russian fake news is also a bad look for a president already besieged by accusations of collusion with Russian intelligence assets during the 2016 elections, though it is unclear whether the president was briefed on the situation before sending his tweets.