Iran parliament attack: Casualties reported after gunfire at the Iranian parliament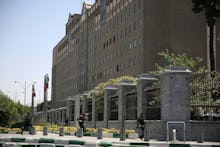 Violence broke out in and around the Iranian capital of Tehran on Wednesday at both the Iranian parliament building and the Ayatollah Khomeini mausoleum, just south of the city, CNN reported.
CNN reported that 12 people were killed in the dual attacks and dozens more were injured, citing Iranian media.
According to the Associated Press, Iranian state media reported that multiple attackers stormed the Iranian parliament building, which, according to CNN, is "highly fortified," with "multiple security checkpoints."
The attackers reportedly opened fire in the parliament building, and at least one of the attackers detonated a suicide bomb, causing injuries. According to CNN, the attackers took hostages in the parliament building.
Hours after the initial attack on the parliament building, Iranian authorities reportedly announced that the situation was under control, CNN reported. All four attackers were reportedly killed by Iranian security.
At the Ayatollah Khomeini mausoleum, some 15 miles away from parliament, gunfire and a bomb explosion were also reported in another, simultaneous attack on Wednesday. Iranian media reported that a suspect was arrested in the attack at the Ayatollah Khomeini mausoleum, according to CNN.
The AP reported that the Islamic State group has claimed credit for both of Wednesday's attacks.
Terror attacks are rare in Iran — CNN reported that the "last major attack" in the country was a 2010 suicide attack on a mosque that killed 39 people.
June 7, 2017, 7:49 a.m.: This story has been updated.