GOP nominee in Georgia's 6th District special election says she doesn't "support a livable wage"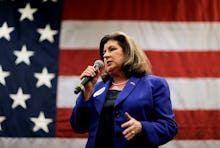 Karen Handel, the Republican nominee in Georgia's upcoming 6th District special election, said Tuesday night that she doesn't "support a livable wage."
The comment came in response to a question about raising the minimum wage during a debate with her Democratic rival, Jon Ossoff.
Ossoff said he supported a minimum wage increase, while Handel said she didn't.
"I do not support a livable wage," she said, painting her view as the "fundamental difference between a liberal and a conservative."
"What I support is making sure we have an economy that is robust, with low taxes and less regulation so that those small businesses that would be dramatically hurt if you impose higher minimum wages on them are able to do what they do best: grow jobs and create good, paying jobs for the people of the 6th District," Handel added.
Ossoff, on the other hand, said no one should struggle to make ends meet if they are working a full work week.
"Look, if somebody's working a 40-hour work week, they deserve the kind of standard of living that Americans expect," Ossoff said. "That's part of the American dream, and there are too many folks having trouble making ends meet." 
Ossoff and Handel will face off in a June 20 runoff for the suburban Atlanta-based House seat, left vacant when Tom Price was confirmed as secretary of Health and Human Services.
Ossoff nearly won the race outright in an April 18, all-party primary, falling just shy of the 50% needed to win the race without a runoff. Public polling shows Ossoff with a slim lead over Handel a few weeks out from the election.
The race — which is now the most expensive House contest in history — has become a test of the anti-Donald Trump resistance in a seat Trump barely carried in the 2016 presidential election.