Donald Trump nominates Christopher A. Wray as new FBI director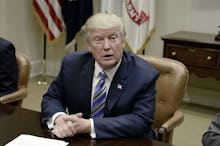 President Donald Trump on Wednesday announced on Twitter that he will nominate Christopher A. Wray as the new director of the FBI.
"I will be nominating Christopher A. Wray, a man of impeccable credentials, to be the new director of the FBI," Trump tweeted. "Details to follow."
Trump's announcement comes a day before former FBI Director James Comey is slated to testify before the Senate Intelligence Committee about his interactions with Trump prior to his firing in May.
Sen. Mark Warner (D-Va.), vice chairman of the Senate Intelligence Committee, said on CBS This Morning that Trump's nomination of Wray was "an effort by the president to try and distract attention from our hearings today and tomorrow."
Deputy attorney general Rod Rosenstein, director of national intelligence Dan Coats, National Security Agency Director Mike Rogers and acting FBI Director Andrew McCabe all testify Wednesday before the committee, while Comey is set to testify Thursday.
Wray is a lawyer who served as assistant attorney general in the Department of Justice's criminal division under President George W. Bush.
He currently serves as a partner at the law firm King & Spalding, and was New Jersey Gov. Chris Christie's personal lawyer during the Bridgegate scandal.
White House press secretary Sean Spicer said Trump interviewed Wray on May 30.
Wray is likely to face a bruising confirmation hearing in the Senate, the body responsible for confirming presidential nominees.
Senate Democrats are sure to press him on whether he would seek to interfere in the ongoing investigation into the Trump campaign's alleged ties to Russia, as well as whether he'd pledge loyalty to Trump — something Trump reportedly demanded of Comey.
June 7, 2017 8:17 a.m.: This article has been updated.