Nintendo Switch stock update: Target restock likely coming June 11, here's what prices to expect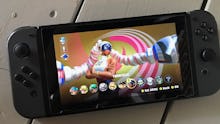 Stock of the Nintendo Switch has stopped many potential console buyers from snagging the console. For every Nintendo Switch restock there are slighted customers who just missed out on buying their console. If you can even pin down when a store has new Switch supply, that is. According to a leak, the latest store to get more sellable units of the Switch is Target.
Nintendo Switch stock: Rumored supply likely coming to Target June 11
News of the restock comes to us from Nintendo Wire, who heard it from The Couponing Couple, who heard it leaked from a Target flyer. Here's where this game of telephone originates:
Just below the gold PS4 we see the Nintendo Switch. We're not sure which is more rare.
The Switch is coupled with a notice on the flyer that reads "while supplies last." Meaning, like other Nintendo Switch restocks, there may not be an abundance of quantity the retailer is working with.
Nintendo Switch stock: How to make sure you get your Switch console
Make sure to use Target's store locator to find out the hours of stores near you. You may want to get there early as other Switch buyers may be doing the same, depending on your region. Also, call in advance to make sure your nearby store is receiving stock of the device.
Preordering the console may not be possible, so all it will take is preparation and a little bit of luck. If all else fails, at least GameStop can set you up with a pricey bundle.
Check out more Nintendo Switch news and coverage
Check out more video game content on Mic, including which Pokémon are actually the best and why black players can never seem to get custom characters that look like them. Learn more about how blind gamers are getting in on the fun and that Injustice 2 appears to be nerfing its female characters. See why we love Twintelle (and why we hate Twintelle) in the upcoming Arms, and don't miss our guide to dodging blue shells in the Mario Kart 8 Deluxe — you can thank us later.