London attacks: Death toll now up to 8 after body recovered from Thames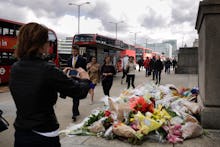 The death toll in Saturday's deadly attack in London rose to eight, London police said, after a body was recovered from the Thames River on Tuesday, the BBC reported on Wednesday.
The body was found during the search for French national Xavier Thomas, 45, who was listed as missing after Saturday's attacks. Thomas was last seen walking on London Bridge with his girlfriend, Christine Delcros, who was injured in Saturday's attacks.
The BBC reported that Thomas' family has been notified, although the body has not yet been formally identified.
Saturday's attack, which left eight people dead and more than 40 people injured, was carried out by three attackers, who drove a van into crowds on the London Bridge and then used knives to attack people at nearby Borough Market.
All three attackers, later identified as Khuram Butt, 27, Rachid Redouane, 30, and Youssef Zaghba, 22, were killed by British police.