Miss Eaves' "Thunder Thighs" is here to celebrate big thighs in the summer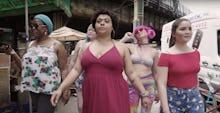 Sure, we always have our "song of the summer," but this year, one song is trying to elevate the genre to a whole new level — a whole new, body-positive level, if you will.
This body-positive song of the summer is naturally called "Thunder Thighs," and it's a banger, with lines like "thick thighs, sundress, I'm looking good" and "chub rub, this day's just heating up."
But it's really the video you have to see.
Filled with women of various sizes and races bopping around Brooklyn in whatever summer attire they want, shorts under skirts included, it's one of the most inclusive videos we've ever seen.
And there's good reason for that. The song itself is from Miss Eaves, whose real name is Shanthony Exum. Exum just so happens to run her own body-positive project, the Every Body Project, which aims to show different body types that aren't reflected in mainstream media.
So of course she'd get it right.
"The song was inspired by me being a thicker woman all of my life and having #thickgirlproblems," Eaves said in an interview. "I wanted to do a fun outdoor video, so I hit up my friend (and co-director) April Maxey and we decided to make a Brooklyn, summery, body-positive dance video. We are both intersectional feminists and we want our art to reflect our politics."
Since releasing the video, Eaves said she's already felt like it's made a difference for some people.
"One woman told me she bought her first pair of shorts in forever," Eaves said. "This made me incredibly happy because the summer is hot AF and sometimes it is more comfortable to wear shorts. I want people everywhere (women, men, non-binary folk) to feel good about being in the body they have today. Slay."
You can watch the entire "Thunder Thighs" video below: