iOS 11 comes with a better dark mode for nighttime iPhone users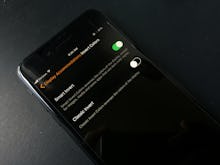 IOS 11 brings with it some noteworthy improvements like iMessage payment transfers, screen recording and new message effects. If you just downloaded the beta, you may have missed a few features buried inside your settings.
Smart dark mode can be found in iOS 11's settings
Previously, in iOS 10, iPhone owners could hit up the accessibility page in settings to turn every color on their screen to its opposite. The colors white and light gray appear on so many sections of iOS, the effect appeared to be a pseudo dark mode for many users. Now there's not only an invert option, but smart invert as well.
These modes may lower the blue light emitted from your screen, which could help you sleep better.
To access the new dark mode, open up the settings app. Tap general, then accessibility, then display accommodations, then finally invert colors. Here you'll find options for smart invert and classic invert.
When inverting your screen's colors the classic way, your phone looks like this:
While a smart invert on iOS 11 looks like this:
Neither effect shows up via screenshot, hence the above photos. With the new smart invert setting, instead of opposite colors in every part of the operating system, only certain parts are their opposite colors. Regular invert changes every home screen icon to its opposite color, for example. Smart invert simply darkens their hue but keeps them a similar color.
Depending on your needs, smart invert may be good but not great. Web pages and non-Apple apps still appeared completely opposite in color. Here's what Google looks like in this new dark mode, for example.
The keyboard gets an altered look in dark mode (as evidenced by the orange "Go" button), as do favicons in the browser — they all sport their opposite colors.
While smart invert still may not be the proper dark mode we've all been waiting for, iOS 11 brings us closer. We'll be crossing our fingers for an official dark mode in version 12.