"Don't Look Back in Anger" royalties being donated to Manchester victims by Noel Gallagher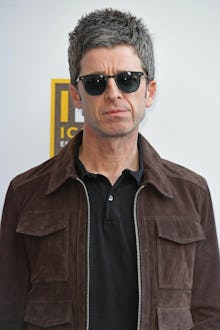 Only one of the two Gallagher brothers that make up the lauded Brit-pop duo Oasis managed to make it onstage to support their city as a surprise guest at Sunday's One Love Manchester charity concert. Liam Gallagher sang the band's tunes to their city solo, a fact he mercilessly dragged his brother Noel Gallagher for on Twitter Monday.
But it turns out Noel Gallagher has been working to support the Manchester victims and their families, behind the scenes. Radio X host Gordon Smart shared the news Tuesday evening, revealing that Noel Gallagher had taken the initiative to donate royalties from Oasis' "Don't Look Back in Anger" to the families of the Manchester Arena bombing's victims, long before his brother even whipped out the Twitter fingers to call him a "sad fuck."
According to Smart, Noel made the move as soon as he heard that the song was being played during the city's healing vigils, mourning the 22 killed and 59 wounded in a bombing that took place following an Ariana Grande concert outside of Manchester Arena.
"I've seen some unpleasant headlines about Noel and why he never played the gig in Manchester at the weekend," Smart said. "It's only right to point out, and I don't think this is public knowledge because I'm sure he would never mentioned it, but I found out today that as soon as 'Don't Look Back In Anger' started to appear spontaneously at the vigils, he made sure all the royalties went to the families. That was before any gig was mentioned."
Coldplay performed the song during the Manchester benefit, thanking Noel Gallagher for his "blessing and encouragement" to play the song.
An hour and a half later, the band added a clipped thank you to Liam, as well.
Coldplay has also taken their fair share of abuse from Liam Gallagher, who previously mocked the band's frontman Chris Martin for looking like a "geography teacher" and that "the whole band look beyond shit," according to NME. That opinion changed after the Manchester gig.
"They've never sounded so good have they, Coldplay?" Liam told a Dutch radio station in a clip shared on an Oasis Instagram fan page. "I was like, 'Fucking hell, you sound good man. I take back everything I've ever said about you. You sound fucking really good.'"
His public opinion of his "sad fuck" brother remains unchanged.
Mic has ongoing music coverage. Follow our main music hub here.