Expect more fourth-wall breaking from Claire if 'House of Cards' is renewed for season 6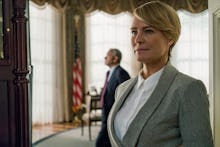 It has been a little over a week since Netflix released season five of House of Cards, meaning that we are long overdue for a discussion of the political thriller's next season — should there be one. While House of Cards has not yet been renewed, the Kevin Spacey- and Robin Wright-starring series is one of Netflix's flagship shows, so it is pretty safe to assume the fifth season will not be its last.
House of Cards executive producer Melissa James Gibson is also preparing for another season. Speaking with TV Line, Gibson discussed the direction the series could take following Claire's ascendance to the presidency. The season ended with Claire, played by Wright, turning to the camera and addressing the audience for just the second time. "My turn," she says.
Fans who enjoyed Claire's fourth-wall-breaking are in luck, and can expect to see a whole lot more of it in season six — again, if there is one.
"We were trying, in a disciplined way, to navigate that shift at the end of last season [when Claire first talked to the camera] and not overplay it [this season]," Gibson told TV Line. "But I think it's inevitable that that will need to be explored further [in season six]."
Should House of Cards return for a sixth season, audiences will get to see a new status quo for the Underwoods. For the first time since the series premiered, Frank, played by Spacey, is outside the political sphere and looking in. Though this appeared to be his "plan," he may need to navigate some bumpy waters as it appears that Claire is not going to be so quick to pardon him for his crimes against the United States.
As for Claire, she is now the leader of the free world, and she may be just as ruthless as her husband when it comes to staying in power. Near the end of the season, she poisons Tom Yates, killing him while the two were having sex (seriously, that's cold). She then leaves his lifeless body for Mark Usher to take care of.
A major question for season six will be whether Frank and Claire can get back on the same page. Executive producer Frank Pugliese told TV Line that House of Cards "is a show about a unique marriage." If that is so, for now, audiences should assume the marriage will remain intact — perhaps in its own unique way.
House of Cards season five is now streaming on Netflix.
Mic has ongoing coverage of House of Cards. Please follow our main House of Cards hub here.