3 new leaks that are damaging Donald Trump ahead of James Comey's testimony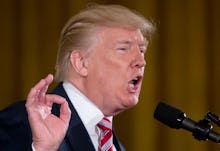 President Donald Trump faces a new round of stories driven by leaks.
The president tried to quash the FBI investigation. Trump allegedly asked Director of National Intelligence Dan Coats in March if he could intervene to stop James Comey's inquiry into former national security adviser Michael Flynn. Coats did not intervene.
Coats and three other top intelligence officials will testify before the Senate on Wednesday, a day ahead of Comey.
Comey reportedly asked to not be left alone with Trump. The then-FBI director was concerned the president would seek to influence the investigation into alleged Trump-Russia ties.
On Thursday, Comey is expected to say he did not tell Trump he was not under investigation, but he is also expected not to say whether the president obstructed justice. Comey has already met with the team of Robert Mueller, the special counsel investigating the Russia allegations. Expect Trump to live-tweet the Comey hearing.
Attorney General Jeff Sessions privately offered to resign. The offer occurred amid reports Trump is angry that Sessions recused himself from the Russia investigation. Trump also believes Sessions has not been aggressive enough in defending his travel ban. (Tweeting about that, by the way, could kill the ban in court.)
This is Mic's daily read on Donald Trump's America. Welcome to the political newsletter that will not be meeting with members of Congress to discuss legislation that has not been introduced yet.
What do you want to hear from James Comey on Thursday? Email me at trumpsamerica@mic.com.
Want to receive this as a daily email in your inbox? Subscribe here.
We're seeking your support to expand our coverage of Donald Trump. As little as a $1 a month will give you access to an exclusive group to interact with Mic journalists and grow our reporting. Learn more here.
What we're watching
Today: Leaks continue to damage the president.
More: Trump names his nominee for FBI director.
Even more: Breaking down the Qatar controversy.
Trump's agenda today: Holding an infrastructure rally in Cincinnati. Meeting with "victims of Obamacare."
Trump announces new FBI director
On Wednesday morning, the president tweeted from his personal account that he will nominate Christopher A. Wray as his new FBI director.
Wray was one of the candidates interviewed for the position and served as assistant attorney general under George W. Bush from 2003 to 2005. The announcement comes at the start of two days of blockbuster intelligence hearings on Capitol Hill. Wray oversaw the Justice Department's investigation into Enron and criminal division. He was also New Jersey Gov. Chris Christie's lawyer during the Bridgegate investigation.
Trump touches on the Qatar controversy
Qatar is an oil-rich nation of 2.2 million people on the Persian Gulf, bordering only Saudi Arabia. Several surrounding Arab nations, including the Saudis, have cut diplomatic ties to Qatar following reports of a speech by Qatar's leader that showed support for terrorism and Iran.
Trump weighed in on Twitter, taking credit for countries cutting ties to an important U.S. ally in the region. Qatar hosts one of America's largest Middle East military bases.
One problem: U.S. intelligence officials believe Russian hackers may have planted fake news that said Qatar's ruler was friendly to Iran and had questioned Trump's longevity.
The wall
The president told Republican leaders on Tuesday that he wants to build a 50-foot wall along America's southern border with Mexico. The proposed structure would be covered in solar panels to pay for itself. Meanwhile, the founder of Oculus Rift is looking into creating a virtual border wall.
Eric Trump: Democrats are "not even people"
The president's middle son appeared on Fox News Tuesday night to say opposition to his father's agenda by Democrats is "so, so bad." The people behind the obstruction are "not even people," with "no message of their own," Eric Trump said. He also called Democratic National Committee Chair Tom Perez a "wackjob."
Eric's comments came after a report his charity gave his father's company more than $1 million. The president demanded the charitable golf tournament begin being charged for its use of Trump Organization facilities.
News and insight you cannot miss:
The House Freedom Caucus wants Republican leaders to cancel the August recess — signaling a potential showdown over health care and other top GOP priorities.
Prime Minister Theresa May said she will change human rights laws if they impede detaining or deporting people suspected of terrorism, but without enough evidence to prosecute them.
The Intercept is being blamed for outing the source of a National Security Agency document that detailed greater Russian hacking before the 2016 election.
69% of voters think Trump tweets too much.