You can actually stay at the Rayburn House hotel from 'Bloodline'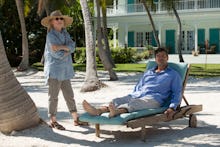 The Netflix hit series Bloodline may have officially wrapped, but that doesn't mean fans have to stop picturing life in the sunny Florida Keys. In fact, instead of just watching drama unfold at the Rayburn House, you can actually visit it and create some of your own. Talk about the perfect summer vacation idea.
Imagine basking in the warm sun, walking in bare feet on white sandy beaches and listening to the innkeepers talk not-so-quietly about the murder they just committed — what could be more relaxing?
But in all seriousness, the Rayburn House is a real place where guests can stay and enjoy all the Keys has to offer — as long as it doesn't involve drug-smuggling and hiding bodies, because that's illegal. It's called the Moorings Village, and it's located in Islamorada, Florida.
Counter to all the problems guests in the show seem to experience at the Rayburn House, the real hotel is incredibly well-rated. It gets five stars on TripAdvisor, with many guests citing the service as impeccable.
That said, it's not the cheapest of places to stay in the Keys. Renting a one-bedroom villa for two nights in July, for example, would cost $759 — not including taxes. This price changes depending on the season, of course, but suffice to say it's no budget motel.
For those seeking more space for, say, a family reunion à la the one at the beginning of season one of Bloodline, the main house, called the Blue Charlotte House, is also available for rented, as of April, for the low price of $2,500 per night. There's enough room for six adults who will have free rein to act out pivotal scenes from the series finale, including Sally's breakdown and John's interaction with numerous ghosts of Danny. Those vacation photos will be social media gold, no question about it.
As far as amenities go, the hotel has a spa that offers a number of services including massages, facials and yoga. The 18-acre property also boasts a lap pool, a tennis court and various equipment for water sports. There's even boat dockage available, but don't tell John, because he might try to hide a body on someone's boat and light it on fire.
For anyone who's already scouring dates for a trip, remember to keep an eye on that ocean. A storm — real or metaphoric — could hit at any moment.
Mic has ongoing Netflix coverage. Please check out our main Netflix hub here.