Tips that pay off: Why live life by the rules — when you can hack it?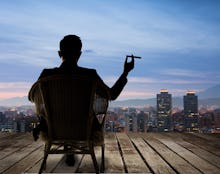 If you've been shopping, budgeting, or even sleeping without knowing a few crucial money-making hacks, you're not maximizing your potential. Allow us to recruit you into the extra-lucrative financially-savvy club.
Did you know that you can literally get paid in your sleep and change your financial future with one simple exercise? Once you hack, you never go back.
Here are five definitive tips on hacking life for all it's worth.
Snagging a side gig is a typical way to earn extra cash, but let's be honest: A second job can be so time-consuming it could mean the demise of your social life.
Instead, you can actually get paid for doing things you normally do, like shopping, eating out, watching videos, working out or even sleeping.
Check out these 10 ways to make a few extra bucks without disrupting your daily life.
Tired of feeling like you don't have enough cash to buy everything that you want and still meet your savings goals? Wish you could spend a little less for the items you buy? You're in luck. And you don't even have to memorize a million rules for saving money.
Here are the most important five rules to follow — ranked from beginner- to expert-level.
Even with millions in lifetime earnings, Americans age 55 to 64 had, on average, just $104,000 in retirement savings according to a 2015 analysis. Obviously, there's plenty to spend your money on over the years — like raising kids and paying for housing. But you owe it to yourself to sock away as much as you can, so you aren't stuck with empty pockets at the finish line.
Here's how to change your financial fate, using just one theoretical hour per day.
Yes, there are simple steps you can take to reduce the costs of your housing, such as cutting your cable bill for a savings of about $100 a month.
But if that's not enough, you may need to take more drastic measures to get your financial life in order.
Here are three big moves you could make to pick up equally big savings.
Mic interviewed professional sommelier and VinePair tastings editor Courtney Schiessl about the simple questions to keep in mind when you're buying a bottle — no matter the occasion.
Here are three heuristics to help guide you. You might be surprised by how easy it is to buy cheap wine that is also delicious and interesting.
Sign up for The Payoff — your weekly crash course on how to live your best financial life. Additionally, for all your burning money questions, check out Mic's credit, savings, career, investing and health care hubs for more information — that pays off.