'Pokkén Tournament DX' roster: Only one new Pokémon will make its debut in the Nintendo Switch port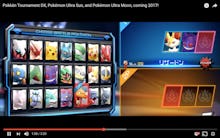 Although the big news on the Pokémon front is no doubt that of the re-release of Sun and Moon on 3DS late this fall, there's another property fans of the series should keep their eye on — the fighting game Pokkén Tournament DX, a deluxe version of the Wii U game of the same name with an upgraded roster.
If you're curious as to what fighters you can expect to play as in Pokkén Tournament DX we've got the details below.
Pokkén Tournament DX roster: Decidueye is the only "new" fighter
According to Gematsu, the only new Pokémon available to play as in Pokkén Tournament DX is Decidueye, the final form of Sun and Moon's grass-type starter. However, word from the Pokémon Company also promises that all fighters from the game's Wii U and Arcade releases will be available to play as well.
The game's official trailer also briefly shows what we would assume to be the whole roster, meaning you can already see who's new and who's returning.
From this image, we can assume these are going to be your 21 contenders in Pokkén Tournament DX. Here's a breakdown of the roster pictured above,
Top row (left to right): Darkrai, Blaziken, Pikachu, Lucario, Gardevoir, Pikachu Libre, Scizor
Middle row (left to right): Croagunk, Sceptile, Gengar, Decidueye, Machamp, Braixen, Empoleon
Bottom row (left to right): Mewtwo, Chandelure, Suicune, Weavile, Charizard, Garchomp, Shadow Mewtwo
With 21 fighters on the field, chances are good that even seasoned veterans of the Pokkén scene will have some new Pokémon to try out. Pokkén Tournament DX will be out Sept. 22 for the Nintendo Switch in America.
Check out more Pokémon news and coverage
Read more coverage on the rumored Pokémon Stars, including Nintendo7;s comments on the potential Switch game and news about Game Freak putting up a now-hiring sign. Watch how well Sun and Moon could translate to Switch if it were a thing or read up on why the game may not even arrive until next year. And if you'd rather live in the now, read about Pokémon Go instead.