'Call of Duty WW2' Multiplayer: Maps will be more grounded, action will be slower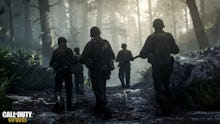 With the reveal that this year's Call of Duty would go back to World War II, it was reasonable to assume the game would slow down a bit from the rocket-boosting and wall-running antics of the last few entries in the series.
Thanks to an interview with EDGE magazine, with quotes compiled by Reddit, there is confirmation that the multiplayer in Call of Duty WWII will be a little more deliberate than something like Black Ops III.
Call of Duty WW2 won't be as fast as previous Call of Duty games
The EDGE interview was with developer Michael Condrey, who talked about the changes made to the multiplayer in Call of Duty WWII.
It's the fast-action experience you're used to, and gritty and visceral but certainly, the boosts and thrusts and abilities that we introduced in Advanced Warfare and you've seen in other games that are around… future technology and exoskeletons are just not appropriate for this game. You can imagine trying to find a balance where it feels strategic and appropriate to the time period, while still maintaining the fun of multiplayer. It's more grounded, and more strategic, and I think you'll find it's not as fast.
"Grounded" and "strategic" sound like code words for "You can't rocket boost or wall run because this is the 1940s." While it would have been amusing to see those things added to a game set in World War II, it wasn't going to happen. It's kind of a shame for people who wanted to do techno-parkour in the Reichstag, but for fans of the original Call of Duty games, this might be exciting news.
We still haven't seen any footage of Call of Duty WWII's multiplayer, but with E3 fast approaching, it won't be long now. Players who preorder the game on any platform will get access to a closed beta, but Activision hasn't said when that will start and end.
More gaming news and updates
Check out the latest from Mic, like this essay about the sinister, subtle evils lurking in rural America that Far Cry 5 shouldn't ignore. Also, be sure to read our review of Tekken 7, an article about D.Va's influence on one Overwatch player's ideas about femininity and an analysis of gaming's racist habit of darkening villains' skin tones.