Who is Christopher Wray? Trump's pick to lead the FBI has ties to the president.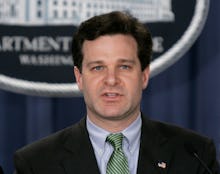 On Wednesday, President Donald Trump announced on Twitter he had finally announced his pick for the next FBI director: Christopher Wray.
If confirmed by the Senate, Wray, a lawyer with the firm King & Spalding, will come to the FBI with years of experience working in both private practice and with the federal government.
Here's what to know about the possible next leader of the FBI.
He worked at the Department of Justice under President George W. Bush
From 2003 to 2005, Wray led the U.S. Department of Justice's Criminal department as assistant attorney general, according to his biography on the King & Spalding website. It is the same position that was previously held by Robert Mueller, the former FBI director who's now serving as the special prosecutor in the Russia investigation.
According to the law firm's website, during his time at the Justice Department, Wray took on corporate fraud as part of Bush's Corporate Fraud Task Force and oversaw the Enron Task Force. He also led "investigations, prosecutions, and policy development in nearly all areas of federal criminal law," according to his bio.
Prior to his stint as assistant attorney general, Wray served as the assistant U.S. attorney for the Northern District of Georgia from 1997 to 2001, and then joined the DOJ as associate deputy attorney general and principal associate deputy attorney general.
He's been with King & Spalding since 2005
Wray's tenure in private practice law has included representing numerous Fortune 100 and Fortune 250 companies, the law firm's website. Over the past 12 years as a private attorney, Wray "has led investigation matters involving U.S. Attorneys' Offices in over 20 different districts around the country and nearly every litigating division of the Justice Department," continuing Wray's governmental ties.
He represented Chris Christie during the Bridgegate scandal
One of Wray's most recent high-profile cases was serving as New Jersey Governor Chris Christie's personal attorney during the "Bridgegate" scandal, in which Christie was accused of shutting down lanes on the George Washington Bridge as an act of political revenge. Two of Christie's aides were found guilty on seven charges of conspiracy and fraud for their role in the proceedings in November.
The Asbury Park Press reported that Wray and Christie's relationship goes back to Wray's time at the DOJ, when Christie was U.S. attorney. In response to Wray's potential nomination for FBI director, Christie told the Asbury Park Press he had the "utmost confidence" in his attorney.
"He has absolute integrity and honesty, and I think that the president certainly would not be making a mistake if he asked Chris Wray to be FBI director," Christie said.
He stayed loyal to James Comey during a White House showdown in 2004
During his time at the DOJ, Wray showed his loyalty to then-Deputy Attorney General James Comey — whose former position Wray will now be filling —when he was in a showdown with the White House in 2004. The standoff took place when the Bush administration attempted to take advantage of Attorney General John Ashcroft's poor health to reauthorize a domestic surveillance program.
According to the Washingtonian, Wray joined a mass resignation plan at the Department of Justice in favor of Comey's actions against the White House, which was ultimately avoided.
"Look, I don't know what's going on, but before you guys all pull the rip cords, please give me a heads up so I can jump with you," Wray reportedly told Comey at the time, as quoted by the Washingtonian.
He's donated to some of the senators who will be tasked with confirming him
Four of the Republican senators who will be confirming Wray to the FBI director position will likely see him as a favorable choice — given that he's donated money to their campaigns.
According to donor records compiled by OpenSecrets.org, Wray has donated to Republican Sens. David Perdue, John McCain, Johnny Isakson and Rob Portman.
The attorney has also donated $6,000 to the National Republican Senatorial Committee, with his most recent donation made in September.
His law firm has ties to Trump
Thanks to his employer, Wray could have some problematic conflicts of interest when it comes to Donald Trump.
Newsweek reported King & Spalding has several ties to Trump, including being the former employers of several other recent Trump appointees. Most notably, King & Spalding partner Bobby Birchfield serves as the ethics adviser to the Donald J. Trump Revocable Trust, the privately held trust containing Trump's business assets. The trust has been criticized for not fully resolving the president's conflicts of interest when it comes to the presidency and the Trump Organization.