'Dissidia Final Fantasy NT': Square Enix brawler smashing its way onto PlayStation 4 in 2018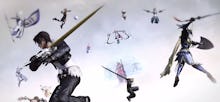 We are having one hell of a year for excellent fighting games. Injustice 2's fluid combat mechanics and exceptional facial animations wowed us in May. Tekken 7 may be challenging, and newcomers may want to steer clear, but we love it anyway. With Pokken Tournament DX making its way to the Nintendo Switch on Sept. 22, we've got a ton to choose from for this year alone.
Square Enix is giving us one more fighting game to look forward to: Dissidia Final Fantasy NT. The Final Fantasy flavored brawler will hit the PS4 in 2018.
Dissidia Final Fantasy NT: Many familiar characters to play as in the 3v3 arena
The trailer below gives us a good idea of what we can expect for playable characters, locations and gameplay.
To those familiar with the Final Fantasy universe, you'll have recognized a good chunk of the fighters. Tidus from Final Fantasy 10, Leon from Final Fantasy 8, Cloud Strife from Final Fantasy 7 all make an appearance in the trailer. There are even some familiar faces from the online games, Final Fantasy 11 and Final Fantasy 14.
Unlike the previous entry in the series, Dissidia Final Fantasy NT will be a team-based brawler, allowing players to enter the arena and play in 3-versus-3 matches. But you'll still have twenty Final Fantasy fighters to choose from.
Notably absent from the roster is Prince Noctis from Final Fantasy 15, which YouTube commenters have been quick to pick up on. It's difficult to speculate on what we'll see for the 2018 release, but I'm hopeful that Noctis, Gladio, Ignis and Prompto will make their way to Dissidia.
According to the Final Fantasy Facebook page, Dissidia Final Fantasy NT will only be available for PS4 and will be available early 2018.
More gaming news and updates
Check out the latest from Mic, like this essay about the sinister, subtle evils lurking in rural America that Far Cry 5 shouldn't ignore. Also, be sure to read our review of Tekken 7, an article about D.Va's influence on one Overwatch player's ideas about femininity and an analysis of gaming's racist habit of darkening villains' skin tones.