This is the reason why Donald Glover is retiring Childish Gambino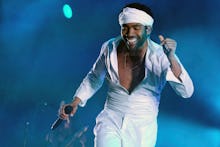 The time has come for Donald Glover to retire Childish Gambino.
At the end of his set at Governors Ball on Saturday in New York, Glover had some surprising and sad news for fans.
After three studio albums including Camp, Because the Internet and Awaken, My Love! Glover revealed that his next Childish Gambino album will be his last. "I'll see you for the last Gambino album," he told the audience.
He wants to end on a high note
Glover explained to the Huffington Post that it's time to put an end to Childish Gambino because he doesn't want fans to get bored.
There's nothing worse than like a third sequel, like a third movie and we're like, "again?" You know, I like it when something's good and when it comes back there's a reason to come back, there's a reason to do that.
To him, his music career just doesn't feel as fresh anymore. With his FX show Atlanta, Glover has moved on to the next chapter of his career. "Like I feel like there's gotta be a reason to do things and I always had a reason to be punk," he said.
This unfortunate news comes at a time when Childish Gambino is having the most success ever. His song "Redbone" hit No. 17 on the Billboard Hot 100, which is the highest spot for any of his songs.
He's about to be a movie star
Another reason behind Glover's decision could be that he is busy preparing to become a movie star.
While his music career may be coming to an end, his film career is soaring. Glover can be seen in this summer's Spider-Man: Homecoming which comes out on July 7. He is also venturing to a galaxy far, far away and is set to star as Lando Calrissian in the upcoming Han Solo spinoff movie. If that wasn't enough, he will voice Simba in Disney's The Lion King remake.
Fans are not OK
Of course, fans are not OK with the news that this is the last Childish Gambino album. Many followers have taken to Twitter to deal with the heartbreaking news:
There is no date set for Childish Gambino's final album, but Glover's movies will tide fans over until then.
Mic has ongoing music coverage. Please follow our main music hub here.