Debris from missing Myanmar plane with 120 passengers onboard found in Andaman Sea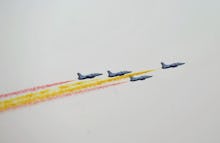 Pieces of a military plane from Myanmar that went missing early Wednesday were found in the Andaman Sea by rescue ship later that evening, Al Jazeera reports.
Search efforts to find the plane, which had been traveling with some 120 passengers onboard from southern Myanmar to the city of Yangon, had been underway for less than a day when debris from the missing plane was recovered.
According to Al Jazeera, the plane had been carrying mostly the families of military personnel, with more than a dozen children believed to have been onboard.
Much of the plane's planned flightpath would have taken it over the Andaman Sea, according to NBC News, which stoked early fears that the aircraft had plunged into the water.
An announcement on the military commander's Facebook page indicated that six navy ships and three military aircraft were engaged in a search for the missing plane, according to NBC.
Gen. Myat Min Oo told the news outlet that it had been raining at the time the plane had lost contact, but only lightly.