Police identify person of interest in killing of black trans woman Kenne McFadden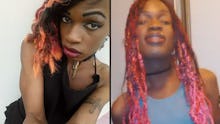 After initially misgendering her and mistaking her death for a drowning, San Antonio police have classified the death of Kenne McFadden, 26, as a homicide, according to the San Antonio Current.
McFadden's body was found on April 9 floating in the San Antonio river. Jesse Salame, a spokesperson for the San Antonio police department told the Current that McFadden had no obvious signs of trauma when she was found.
Salame added that a person of interest has been interviewed, and police plan on arresting or charging him at some point. The suspect is currently incarcerated for a different crime.
A friend, identified only as April, who spoke to the Current described McFadden as "goofy and uplifting." The two knew each other from middle school.
"[McFadden] always kept us smiling and laughing," April told the Current. April said they were planning to go sing karaoke prior to her death.
McFadden's Facebook indicates that she was a server at a local restaurant and loved to sing. She posted several videos of herself singing to Christina Aguilera and Katy Perry.
According to MySanAntonio.com, police do not currently know if McFadden's gender identity was a factor in her death, though they have not ruled it out.
Mic has reached out to friends of McFadden to speak about her life.
McFadden is the 12th reported homicide of a transgender woman in 2017, following the death of Sherrell Faulkner in May due to injuries sustained in a November 2016 attack.
In a statement mourning McFadden's death, LGBTQ advocacy organization the Human Rights Campaign noted that McFadden is the seventh case of trans homicide in Texas since 2013.
June 29, 2017, 12:10 p.m.: This story has been updated.