A majority of Americans think Trump is interfering with Russia investigation, new poll finds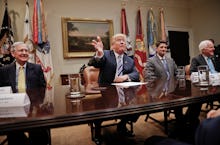 A day before his former FBI director testifies before the Senate, a new poll finds a majority of Americans feel President Donald Trump is interfering with investigations into Russian tampering with the 2016 U.S. election.
The Washington Post-ABC News poll, released ahead of ex-FBI Director James Comey's federal testimony, found that 56% of U.S. adults believe the president is "interfering with such investigations rather than cooperating."
A strong majority, 61%, also say Trump's dismissal of Comey was a move made in Trump's own interest, not the country's.
Trump and his administration gave a parade of reasons for Comey's ouster. In a formal letter, the president said the director wasn't up to the job of leading the bureau, but in a subsequent NBC interview, Trump said the Russia probe was on his mind.
Still, the poll found Comey faces public image problems himself.
Just 36% of Americans said they trust what Comey says regarding Russia and the election "a great deal" or "a good amount," pollsters reported, while 55% trust him "some" or "not at all."
As with Trump, sentiment about Comey fell along party lines, although in opposite directions: Democrats tended to be more suspicious of the president, while Republicans had a bleaker view of Comey.
Overall, Trump still had the bigger credibility issue. The poll found that "fully half of adults say they do not trust what Trump says 'at all' on these issues, compared with one-quarter who say the same of Comey."
"Fully four in 10 Americans have doubts about both Comey and Trump's statements on Russia and the election."
The Washington Post and ABC polled 527 adults from Friday to Sunday. The overall margin of error for the survey is plus or minus five percentage points.