Director Patty Jenkins holds all the leverage in 'Wonder Woman 2' negotiations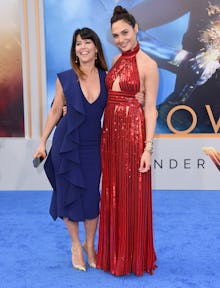 It is hard to believe now, but when Wonder Woman first opened on tracking boards, the film was projected to earn a solid, yet unspectacular, $65 million over its opening weekend. Let's just say those projections were off — like really, really off. Over 75 years' worth of anticipation and strong buzz ahead of its release led the Patty Jenkins-directed flick to a stellar $103 million opening.
Wonder Woman's opening weekend topped Fifty Shades of Grey's $85 million bow to become the largest first frame ever for a female-directed pic. On top of its already strong box office performance, Wonder Woman is also a great movie. In fact, it is one of the best comic book movies ever made. So, it should come as absolutely no surprise that there are now early plans for a sequel.
The problem for Warner Bros., though, is that they only locked in director Patty Jenkins for one film. This is a strategy that could very well end up costing the studio quite a few dollars — millions, in fact. Sources tell The Hollywood Reporter that the studio will likely start negotiating with the director shortly, and she will "enjoy enormous leverage."
According to the report, it is also possible that Jenkins could take on a more expansive role in future DC Entertainment productions. If true, this could be a great sign for the continuously expanding DC Extended Universe.
After only so-so reactions to the Man of Steel, Batman v Superman and Suicide Squad, Wonder Woman, and its near universal acclaim, has put the DCEU back on the correct course, and Warner Bros. would be smart to take full advantage of Jenkins' vision and enthusiasm — even if it will cost them some money.
Regarding the director's work ethic and passion, Wonder Woman's cinematographer Matt Jensen recently said that "[Patty] is just so energetic and enthusiastic, and often is working out scenes by herself."
I would always come to the set early and I would catch Patty there early kind of talking to herself and walking the scene by herself and making sound effects — she is so into it.
Hopefully, Jenkins will be bringing her enthusiasm to a Wonder Woman sequel and future DC productions in good time.
Wonder Woman is now playing in theaters nationwide.
Mic has ongoing coverage of Wonder Woman. Please follow our main Wonder Woman hub here.