Does 'Morrowind' come with ESO Plus? You probably won't like the answer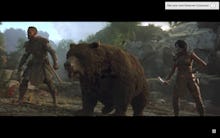 Elder Scrolls Online is an online multiplayer game that's compromised of multiple areas from the Elder Scrolls series — and with the newest update, Morrowind is added to that bunch. You may be wondering if the new expansion is included with your ESO Plus membership.
Unfortunately, the answer is no. You'll have to pay separately for ESO Morrowind. Here's what you need to know.
Does 'Morrowind' come with ESO Plus?
It seems that the answer is no, ESO Plus does not cover Morrowind. If you want Morrowind, you'll need to buy it in person or at an online store, not in game. Here's the official explanation from the Elder Scrolls Online website:
Will I get access to the Elder Scrolls Online: Morrowind as part of my ESO Plus membership?
No, an ESO Plus membership will not grant you access to The Elder Scroll Online: Morrowind content. As this is an entirely new chapter of ESO, you'll need to purchase one of the five editions. If you already own ESO, you can purchase the Morrowind Upgrade or the Morrowind Collector's Edition Upgrade from online stores (The Elder Scrolls Online Store, Steam Store, Xbox Store, or PlayStation Store).
If you want to check out ESO Morrowind, you'll have to pay $39.99 for the update. If you've never played Elder Scrolls Online you can pick up the new Standard Edition, which includes the latest expansion, for $59.99.
More gaming news and updates
Check out the latest from Mic, like this essay about the sinister, subtle evils lurking in rural America that Far Cry 5 shouldn't ignore. Also, be sure to read our review of Tekken 7, an article about D.Va's influence on one Overwatch player's ideas about femininity and an analysis of gaming's racist habit of darkening villains' skin tones.