'Tekken 7' Jin Combos: How to master the head of the Mishima Zaibatsu's fighting style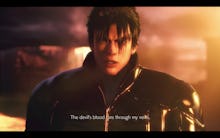 Tekken 7 has only been out for the PlayStation 4 and the PC in the United States since June 2, meaning you've got a lot of catching up to do if you want to take your fists of fury online. Unfortunately, the game's not exactly the most newbie friendly. Even if you fastidiously study our general tips and tricks, you might still need some more advice on how to let your hands and feet do the talking.
If, out of Tekken 7's character list, you only have eyes for current head of the Mishima Zaibatsu, Jin Kazama, we've got some helpful hints on how to make the most out of the Devil Gene-having, weird biker jacket-wearing, cowlick-haired illegitimate son of Kazuya Mishima.
Tekken 7 Jin combos: Getting good is going to require a lot of practice
The best way to get familiar with the button inputs for Jin — or any other Tekken 7 character, really — is going to be to practice with them. Although Tekken 7 has a dedicated practice mode, it might be difficult to look up different moves on the fly and then execute them, especially when they have multiple button inputs.
Thankfully, Tekken Gamer has a complete move list for each character, Jin included. So if you're like us and keep a laptop or a phone handy while you play, you can keep Jin's combo list open while you pound on your CPU opponent to your heart's content. Unfortunately, even though Tekken Gamer helpfully lists the different combos you can do by their names, it won't show you what they look like — you'll probably have to check the game's combo list in order to see what the move actually looks like in action first.
If you're just looking to get a sense of what Jin's moves look like in action, a YouTube account called Aman Saxena has you covered, with a complete rundown of Jin's moves including their damage values:
It's going to take some practice to get good with Jin Kazama, but if you put your mind to it, anything is possible. Look at Jin — after defeating his evil ghost-possessed great grandfather Jinpachi, he got control of the Mishima Zaibatsu and immediately plunged the world into a weird corporate war.
More gaming news and updates
Check out the latest from Mic, like this essay about the sinister, subtle evils lurking in rural America that Far Cry 5 shouldn't ignore. Also, be sure to read our review of Tekken 7, an article about the influence of D.Va on one Overwatch player's ideas about femininity and an analysis of gaming's racist habit of darkening villains' skin tones.