Meet Jelanii Kabita, a transgender man who dances to be free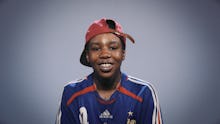 Jelanii Kabita has dedicated his life to two simple principles: authenticity and dance. As his body syncs to the music, the boombox tattoo scrawled across his stomach dances along with each downbeat. It's immediately clear that he was made to move.
"I dance to be free," Kabita told Mic in an in-studio interview. "I dance to eat. I dance to live. I guess I perform dance to show other people that there's other ways to express what's going on inside of you."
Kabita set himself on a path to freedom early on, after experiencing a rocky childhood in Kingston, New York. The 23-year-old first came out as bisexual to his mother in middle school. From that moment on, he endured severe abuse and was ultimately forced out of his home and into foster care. After finding his way to New York City, he found a sense of identity and belonging within the dance community.
Now, Kabita is the leader and founder of the Raiders of Concrete, a street dance crew composed of dancers from several different countries and backgrounds. Mic sat down with Kabita, who shared that he came out as transgender two years ago, and learned more about the story that brought him to where he is today.
Mic: How did you start dancing?
Jelanii Kabita: Well I started dancing in my house, when I was younger, and then one day I seen a dance company from my old elementary school. They did a nice little presentation of their company and the after-school program that they were showing us that they wanted to bring to the school. I basically just fell in love with the whole culture of it, and then I was like, "I want to seriously do this." From fifth grade until now I've just been dancing.
Tell me how you started dancing in New York City. What was it like to start your own company, Raiders of Concrete?
JK: I lived in foster care two years prior in New York state, I was bouncing around from the outskirts of New York. Places I don't even remember the name of anymore. Then one day I got sent down, like they told me to pack my stuff and I'm moving to New York City. I always watched people dancing on the train, and I just got here and was like, "Alright, I'm just going to try it." I jumped on the 1 train one day with a little radio and tried it, and I did good, and I felt good about it so I just kept going.
What attracted you to New York City?
JK: Well I guess my plan that attracted me to New York City, initially I was just going to just move down here when I was 18 or 19, when I was ready to move out my mom's house. Circumstances put me here faster and I —
Circumstances?
JK: The circumstances that me and my mom had. She abused me when I came out as lesbian. Well, first I came out as bisexual because that was the coolest thing in school to be, so it was easier for me to come out as bi. Then when the abuse kept going on, they took me out of her house. I moved around to a lot of foster care homes, temporary homes. Then they found a more stable home in New York City called Green Chimneys. I stayed there until they lost the company, and I moved to another group home.
Even from when I was younger, I always had this conviction to do what I wanted to do, and be who I wanted to be.
What was coming out as bi like? How did that transform into who you are today?
JK: I first got involved with a girl in my class, and then our relationship got put out by kids in the school. The school's therapist told me that I have three days to tell my mom that I was kissing a girl in the bathroom. I didn't know what to do, so I didn't tell my mom, and she said if she didn't get the call, that she would call her herself. One day I came home and I seen my mom home early, and I knew that my life was pretty much over from that point. I walked in the house and my mom was yelling at me, calling me all types of homophobic names, "dyke" this. Everything you can imagine. Then I guess I felt really bad about being put out, so I started trying to date boys again. Just to make everyone kind of calm down. It didn't work, because it wasn't who I am. Even from when I was younger, I always had this conviction to do what I wanted to do, and be who I wanted to be.
How does dancing help you deal with the trauma that you survived?
JK: Dancing helped me because when I got into the community I first was just under a lot of people's teams already, so I was jumping from team to team. Then when I finally let go of those chains of being just like the only girl in a crew or whatever, then I was like, "Okay, I'm going to take what I know and make something different." It just helped me because I was able to pick my family. I was able to meet all these people from different countries, and different walks of life. I guess it was a communication for me. Dance opened up a whole 'nother social thing for me. I feel like if I didn't dance I wouldn't really know how to talk to people or how to emit certain vibrations to people that they're able to talk to me. Because before dance I was just like trying to be in a gang and trying to find any way to have a family.
What was coming out as trans like?
JK: I didn't know I was trans until I knew what the word was. Like I feel like I found out about transgenderism when I moved to the city because there was more programs. Especially that I was in a LGBT group home, and they specialize with kids like me who were put out because of your sexuality. I found out I was trans because I always thought about when I was younger, when I was devastated when my breasts started growing, or like when I got my period for the first time. Then for me it was real for me that I was in a body that I didn't really want. I was always able to hold it in.
I always was someone that wanted to please other people, so to please my mom I would dress the way she wanted me to dress. Then when I leave the house I would change my clothes, stuff like that. I came out as trans two years ago to everyone. But I didn't start using pronouns until two years ago. I'm not really pinpoint about pronouns, or if I'm taking hormones or not, or anything like that. I guess I fit in the category because I feel like I was in a body that I didn't choose and I don't associate with really. I wear no shirt a lot, so for me having a bra on it doesn't really bother me, but it does in a way because I just want to be free, and I know that I can't be free and just wear no bra because then people will have a lot of other things to say. I have a lot of questions in my head with transgender, like do I transition medically or do I stay in the body that I'm in? Physically I'm comfortable with my body, but then it's the days that you look in the mirror and you know that you're somebody else.
If there were something you could say to like a 15-year-old out there who's grappling with their identity, what would you say?
JK: I would say as hard as it sounds, just be yourself no matter what anyone says. Don't stress on what is good or bad, because I learned that nothing is good or bad. It's the choices that you make, if it's good or bad. If you're in a situation where you feel like you can't express yourself or you can't be who you are, you have to focus on maybe getting somewhere to where you feel like you can express yourself and be who you are. Even if that means you might have to take yourself out of your situation, like your housing situation if it's unsafe, or your school or your job.
I guess it comes with sacrifices. You have to sacrifice the acceptance of everyone else, and fight that thought in your head that is telling you that no one's going to accept you. Because no matter where you are, people are going to accept you and they're going to see how beautiful you are. If you feel sad, then people can see it. If you can find ways of making yourself happy then you'll draw in what you feel. You attract what you feel.
Mic's senior staff writer Jamilah King conducted this interview.
This interview has been edited and condensed for clarity.